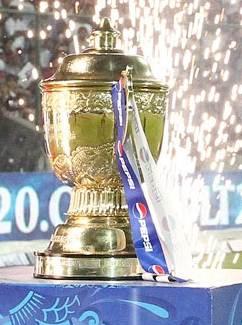 The Indian Premier League cricket tournament could lose about Rs 1,000 crore (Rs 10 billion) in revenue if it is forced to de-franchise the Chennai Super Kings and Rajasthan Royals teams.

The owners or officials of the two teams have come under a cloud, on allegations of betting on outcomes, in the Mudgal probe committee report.

The number of matches in the tournament will come down by 44 per cent, from 60 to 34, if the tournament is played among six instead of eight teams.
This would have impact revenues across the national cricket board, franchisees, players and broadcasters.

Experts say Multi Screen Media, the network that airs IPL on its channels, Set MAX and Sony Six, the official broadcaster, would have to almost double its advertising rates to get the same revenue as in a 60-day tournament. As that will not be possible, they will have to re-negotiate their broadcasting fee and reduce it proportionately.

According to experts, Set MAX paid around $120 million (Rs 721 crore) in the previous IPL to the Board of Control for Cricket in India for the rights.
If this number was to go down proportionate to the reduction in matches, MSM would be paying BCCInot more than Rs 403 crore (Rs 4.03 billion).
This would have an immediate impact on not only BCCI's revenue but those of the franchisees. Under a simple formula, the franchises get 54 per cent (they got this much last year) of the broadcasting fee.
The rest goes to BCCI.

This would also mean lesser advertising revenue for IPL on television.
This year Set MAX was able to rustle Rs 900 crore (Rs 9 billion) as ad revenue for IPL.
If this number goes down proportionate to the number of matches, it would mean a reduction in the ad revenue by around Rs 400 crore (Rs 4 billion).
ESTIMATED LOSS IF CHENNAI SUPER KINGS AND RAJASTHAN ROYALS GO
Total revenue loss Rs 971 to Rs 1,021 crore (Rs 9.71 to Rs 10.21 billion)

Rs 95 crore (Rs 950 million) From franchise fees
Rs 300 crore (Rs 3 billion) From broadcast fees (considering MSM would want to rework the fees due to significant reduction in the number of matches)
Rs 113 crore (Rs 1.13 billion) From player fees (combined player fees paid by RR and CSK in 2014)
Rs 53 crore (Rs 530 million) From gate revenue (accounting only for the reduction in the number of total matches in the IPL)
Rs 60 crore (Rs 600 million) From franchise sponsorship fees
Rs 88 crore (Rs 880 million) From IPL sponsorship fees (considering sponsors would want to rework the deals after reduction in the number of matches)
Rs 350-400 crore (Rs 3.5-4 billion) Loss to MSM -- Rs 350-400 crore, as the number of matches will reduce significantly, the inventory available to it will also reduce significantly. The broadcaster, believe planners, will not be able to compensate the reduced inventory with proportionate increase in ad rates or on-air sponsorship rates
BCCI would also suffer in other ways. CSK and RR together forked out Rs 95 crore this year as franchise fee to BCCI.
If not allowed to play, they would obviously not pay this.
So, BCCI revenue from franchisee income will dip from Rs 475 crore (Rs 4.75 billion) to Rs 380 crore (Rs 3.8 billion) annually.

Of course, the scenario would change if BCCI decides to re-auction the two slots, either in the same locations or in other cities (remember, Ahmedabad always wanted an IPL team).
However, the question is whether there is appetite for corporate groups to get into the game and start from scratch.
"In case, the two teams are disbanded, it is highly unlikely that the IPL would function with only six teams.
"When the team owners came on board, they signed up for a tournament that had at least eight teams.
"More, the duration of the tournament will become almost half, since the reduction in the number of matches with six teams will be significant," says an official close to one of the six teams in the clear.

More important, the fate of many of the cricket players could be in jeopardy.
After all, CSK and RR had paid Rs 113 crore (Rs 1.13 billion) to buy players in the auction.
Obviously, the contracts would be over if they do not play.

BCCI's earnings from IPL could also fall if it has to compensate for a lesser number of matches to sponsors and the two teams do not pay their franchise fee.

Franchisees, for instance, will lose gate money, since they will now play fewer matches on their home ground.
Franchise sponsors might ask for lower rates, as the number of matches they play will be lower.

The corporate sponsors of IPL, who forked out Rs 200 crore (Rs 2 billion), will demand compensation in proportion to the number of matches reduced.
This money is again shared between the franchisees and BCCI, in the same ratio as the broadcasting fee.