From PhonePe to Jio, everyone wants to be a Super App but it is still unclear if they will actually work in India.
Illustration: Dominic Xavier/Rediff.com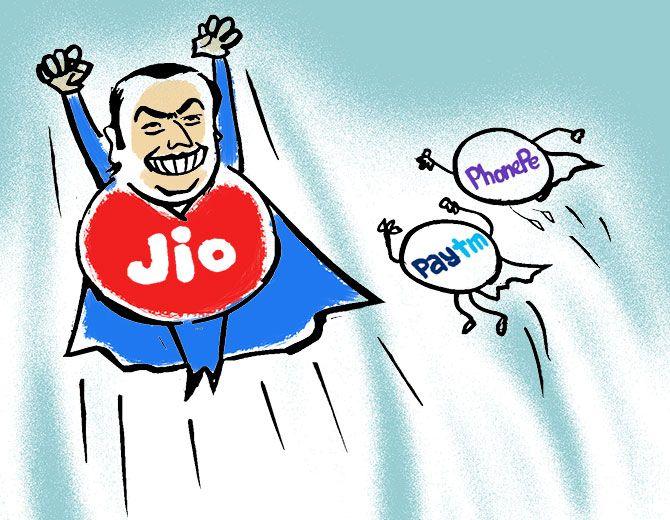 A Business Standard news report recently stated that Jio is preparing to launch 100 services soon including e-commerce.
The report hinted it would be a super app.
Meanwhile, PhonePe, for a while, has been talking about the need to be a super app.
It wanted to imitate the likes of WeChat in China or rather be an Indian version of the very popular chat and commerce unicorn.
So serious was Sameer Nigam, founder of PhonePe, about his vision to create India's first super app that he flew his team to China.
They surveyed the market, tried to understand the nuances and will now use those learnings to replicate it in India.
PhonePe got in Oyo, Faasos, Gaana, Ola and Flipkart all within the same ecosystem.
Does this sound familiar?
In fact, in March this year, Paytm, too, tried to replicate this.
Paytm got Zomato and MakeMyTrip as part of its subscription platform.
Two different ways to skin the cat. But does the concept of super app work in India?
On paper, yes. The reason a super app works is frequency of using it.
"There is a need for a super app.
"Think about it, you take cabs twice a day, you order food thrice a week, you order groceries once a week, you shop online once in two weeks, you pay bills and watch movies once a month and you travel once in two months," says K Ganesh, founder, GrowthStory.
All of this changes the way the customer behaves. It also gives the company immense information about the customer.
GPS tells it where the customer took the cab to, restaurant reservation tells the company where the customer ate.
Payment tells it how much it all cost.
"Now, at this crucial juncture when the customer is heading home, if there was a notification of the phone, which asked the customer to order groceries because it knows this is idle time, you may be able to convert a purchase," he adds.
Apart from its own services, this fabled super app could also promote out of super app services, which would be extremely local.
For example, if the customer went to a restaurant next to a mall.
It could give the customer coupons to shop next door.
This locks the customer in the super app universe.
But in reality this doesn't translate.
"A better parallel to PhonePe would be Grab," says Ganesh.
He explains that Grab started with a big use case in cabs, added new services, new layers and then became a giant in its own right.
But, he says, there are nuances that need to be considered in why these companies take off.
"First you need to start with a use case that defines your company, something that is so basic that everyone comes on to that app every day a few times a day," says a senior executive from Tencent who asked not to be identified.
This senior executive is talking about WeChat.
He explains that WeChat was an instant messaging platform, which evolved into payments and then commerce.
"The primary use case is still chat. People want to talk to one another," he adds.
This, he says, is missing with PhonePe or Paytm.
"Their primary use case is payments and just for the top 50 million people," he adds.
He explains that for PhonePe or Paytm, people get on their apps to pay bills or do mobile top-ups.
"Whatever they do, they can't change it. It is a challenge in this market," he says.
Paytm, for example, did try to introduce mobile gaming like ludo and chat to replicate that texture but abandoned chat in December 2018.
But why are payment companies trying to be super apps?
"They are taking their cues from banks. Who first sell savings account then insurance and then a demat trading account.
"These are services that people may find interrelated," adds Ganesh.
Hike, a unicorn run by Kavin Bharti Mittal, came closest to replicating WeChat.
It started with chat and then tried to add other services.
But that didn't work either, and he changed tack in early 2019.
"In 2019, we continue to double down on both Social and Content but we're going to do it with an evolved approach.
"We're going to do it across multiple apps. That means, in 2019 we're going to go from building a Super App that encompass everything, to Multiple Apps solving one thing really well," he said in January this year.
The reasons for Hike's failure were several.
But the key was that it just missed the bus when it came to chat.
WhatsApp had taken over in every which way possible.
It was the most popular chat engine in the country spreading across demographics.
And even when Hike tried to offer services it didn't quite agree with its audience. Because Indians like choice.
K Ganesh agrees. He says that Indians like width in their options even for the top 50 million.
Customers want to check Amazon and Flipkart. BigBasket and Grofers. Swiggy and Zomato.
"There is very little loyalty," he says.
And because all options compete so heavily with each other for the quality of service there is no need for one solution.
But there is one that has the ability to be a super app.
But in a different way. Reliance Jio.
"The thing about Jio is that it is the first time people were exposed to the internet. Jio is the internet for many people," Ganesh adds.
"For 300 million people, Jio will be what introduces them to e-commerce."
Arvind Singhal, chairman and managing director, Technopak agrees.
"Jio closes the loop that none of them has been able to before," Singhal says.
It doesn't have to be an app, he argues, it can be a service.
Now, the question is: Does PhonePe or Paytm fall into the heap of those who have failed before it or will they manage to find a different answer?
India may well be ready for the answers and if the answers are right.