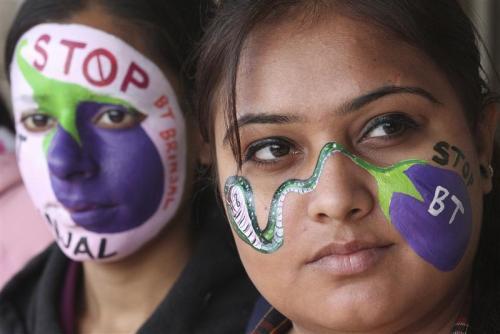 The study also found that most GM foods did not disclose the fact on the label. "A few also made false claims of being GM-free," the study by CSE said.
Despite a wide ban on its production, genetically modified food may have become an inherent part of the Indian platter, a recent study by research and advocacy body Centre for Science and Environment has revealed.
The study has found a wide presence of genetically modified ingredients in packaged food items sold in India.
Edible oils, processed and packaged food and infant food items -- produced locally and those imported -- were found to contain genetically modified ingredients. While 32 per cent samples tested GM-positive, the rate went up sharply to 80 per cent for imported products.
Also, 21 of 65 items tested had GM ingredients in them and 18 of them were imported. The study also found that most GM foods did not disclose the fact on the label. "A few also made false claims of being GM-free," it said.
Nearly 65 per cent of the samples that were found GM-positive did not disclose its genetically modified ingredients.
Among popular food companies, Abbott and General Mills were found to be marketing GM foods. Two products by Abbott Laboratories, the American healthcare company, were found to be GM-positive. While one was for lactose-intolerant infants, the other was a hypoallergenic product. Both products were without any warning about their GM nature. Imported packed food items such as crispy corn snacks and corn puffs -- distributed by General Mills Inc, USA -- are GM-positive.
All five GM-positive items, which had local origins, belonged to cotton seed oil brands such as Ankur, Ginni, Tirupati and Vimal.
Most of the imported items were produced in the US, Canada, the Netherlands, Thailand, and the UAE.
While the CSE study was done based on tests conducted on samples from the National Capital Region, Punjab and Gujarat, experts said GM food items could be easily found in other parts of the country too.
A GM crop is developed through inserting the DNA of another creature into the targeted plant's DNA for the purpose of enhancing its productivity and/or increase its immune power.
Apart from import of GM seeds and production of such food items, research and development of GM crops is also banned in India. Currently, the Environment Protection Act strictly prohibits import, export, transport, manufacture, process, use or sale of any genetically engineered organisms except with the approval of the Genetic Engineering Approval Committee under the ministry of environment, forests and climate change.
"We were shocked to know the scale in which GM foods have penetrated the Indian market. The regulatory authorities are to blame here -- the Food Safety and Standards Authority of India has not allowed any GM food on paper, but has failed to curb its illegal sales," said Chandra Bhushan, deputy director general, CSE.
However, according to Pawan Agarwal, chief executive officer, FSSAI, sales or imports of GM positive food items are not illegal in the country.
"The FSSAI's job is to ensure safe food to Indian consumers. Currently, there are no laws under our purview that prohibits use of GM ingredients in packaged food," he said.
Photograph: Ajay Verma/Reuters.