Markets gave double-digit returns in 3 of the past decade's worst monsoon years but the resilience will be tested this time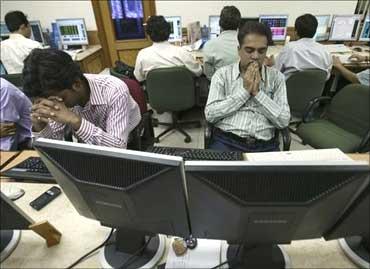 The stock markets have not always followed the same trend as the monsoons in the past decade.
Returns have ranged from 13 to 81 per cent during times of rain shortfall in these years.
However, this seems unlikely to continue in 2015.
The stress of two years of rain shortage, the attendant negative sentiment and some earnings pressure bodes ill for returns this year, say experts.
"There have not been two years of bad rainfall in a row.
"If the monsoons are bad this year as well, there could be a major problem even in the irrigated areas, as groundwater levels would have been depleted.
"The markets are likely to be impacted," said G Chokkalingam, founder & managing director, Equinomics Research & Advisory.
"In 2009, Indian equity markets were in recovery mode after a major selloff in 2007-08, so the rise was off a small base.
"Similarly, the markets had begun to rise in 2003-04, after a long consolidation since October 2001.
"Now, we are sitting on a large base, with markets having risen to all-time highs. So, even a small negative trigger can play spoilsport, though, traditionally, the impact of deficient rainfall has not been very large," said Deepak Jasani, head of retail research at HDFC Securities.
2009 was one of the best years in terms of market returns, despite a poor monsoon.
The S&P BSE Sensex gave a return of 81 per cent.
Two of the other worst monsoon years also saw double-digit returns, according to an analysis of data from the stock exchanges and monsoon data from a report by Edelweiss Securities.
The next worst year in rainfall was in 2014, at only 88 per cent of the long period average.
The market returns were 29.9 per cent.
The year 2004 saw rain at 91 per cent of the LPA and the market return was 13.1 per cent.
This time, India Meteorological Department has forecast 93 per cent of the LPA, which would make this a consecutive year of the monsoon falling short.
A report issued on Wednesday by Edelweiss Securities, authored by analysts Kapil Gupta and Prateek Parekh, says: "It is pertinent to note that there have been instances in the past of large deviations between IMD's projected and actual first-stage rainfall forecasts."
There have been 19 instances of the El Niño weather phenomenon affecting rainfall since 1950.
India had below-normal rains in 11 of these, normal in seven and excess in one, according to the Edelweiss data.
". . .while El Niño conditions do increase chances of a below normal monsoon, there is no one-to-one correlation. . . .
"In fact, in 1997, one of the strongest El Niños, rainfall during the monsoon season was normal (105 per cent of the LPA).
"Therefore, it might be premature to draw any concrete conclusions. One will have to wait for IMD's second-stage forecast in June to gain more clarity," it said.
Edelweiss says in 2007, the April prediction was for rainfall equivalent to 95 per cent of the LPA.
The actual rainfall was 105 per cent.
In 2009, it was predicted that rainfall would be around 96 per cent.
The actual rainfall was 77 per cent.
"The sectors that could see an impact include banks, which could face problems with non-performing assets, pressure to lend to the rural populace and low credit growth.
"Fast moving consumer goods companies will witness slower demand growth," added Jasani.