As cess levied under GST isn't shared by states, most states oppose it on the ground that it would set a wrong precedent and distort the GST structure.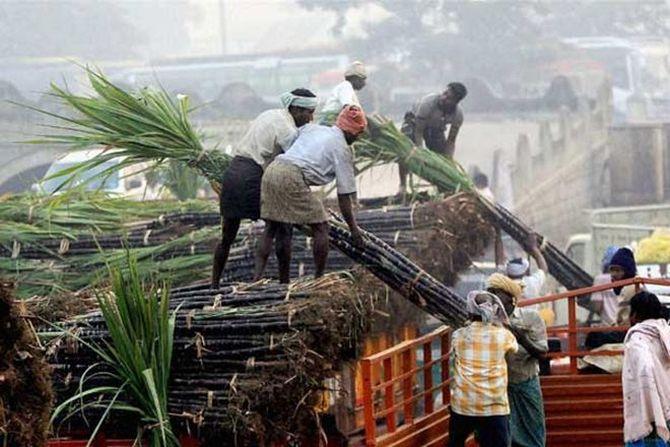 The idea of a cess on sugar of around Rs 3 a kg to fund the Centre's scheme for helping cane farmers had state governments differing at Friday's meeting of the Goods and Services Tax Council.
The major sugar producing states of Uttar Pradesh and Maharashtra, with Bihar -- all ruled by the Bharatiya Janata Party directly or in alliance -- seconded the proposal. It would enable the Centre to get the Rs 15.4 billion required to fund the Rs 5.5 a quintal for cane growers, announced by the central government this week.
The idea was to help both sugar mills and the farmers. With sugar prices below the cost of production, mills' payment arrears to cane farmers is over Rs 200 billion.
However, as a cess levied under GST isn't shared by states, most others opposed it on the reasoning that it would set a wrong precedent and distort the GST structure.
Kerala has a big plantation sector, also hit by a sharp drop in realisations due to falling prices. Its government argued that if something is being done to benefit cane farmers, why not levy a cess on rubber to benefit its growers?
"Sugarcane farmers must be protected. The three per cent GST cess will fetch only Rs 70 billion. Why can't it be met from central budgets, rather than through distorting GST? I shall agree to a cess only if a similar treatment is offered to rubber," said the state's finance minister, Thomas Isaac.
Andhra Pradesh finance minister Yanamala Ramakrishnudu said levy of cess by the Union government is against the spirit of GST.
Maharashtra, Uttar Pradesh and Karnataka together account for over 80 per cent of the country's sugar production. Also, 28 per cent of the Lok Sabha's seats come from these three states, with a general election due in a year.
In Uttar Pradesh, almost 20 per cent of the sugarcane crop is still standing in the fields, as millers have simply refused to issue indents (parchis in local parlance). Indents are a commitment from the mills to purchase a specified quantity of cane from farmers.
Bihar deputy chief minister Sushil Modi, in supporting the central proposal, said GST law allowed the Council to decide on such a cess; there was no legal breach. West Bengal's Amit Mitra strongly argued otherwise.
"The idea of collecting cess for supporting farmers is noble but the government should consider allocating funds from its existing revenue collections rather than introducing a new levy.
"By bringing in additional cess on GST, the entire purpose of simplifying GST and reducing multiplicity of taxes gets defeated," said Abhishek Rastogi, partner in legal firm Khaitan & Co.
Photograph: PTI Photo.