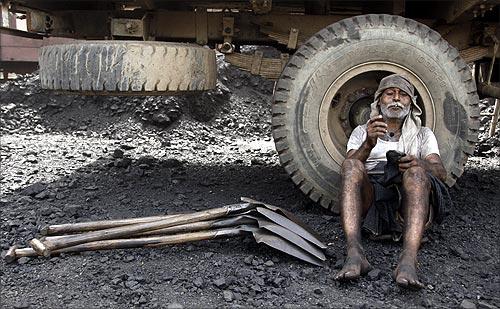 The decision ends monopoly of the Centre
Ending the 41-year-old monopoly of the central government over mining and sale of coal, the Cabinet Committee of Economic Affairs approved the allotment of coal mines to states for mining and commercial sale to medium and small industries in their state.
The statement of the government said CCEA gave its approval for allotting coal mines to central and state public sector undertakings for sale of coal, especially to medium, small and cottage industries, under the provisions of the Coal Mines (Special Provisions) Act, 2015.
Business Standard had earlier reported that the ministry of coal would allot non-operational mines to state governments for commercial mining and sale of coal to respective utilities for end-use in power, iron, steel, cement and allied sectors.
This move is likely to benefit the mineral-rich states to earn surplus revenue, which were until now earning royalty from private companies mining coal for captive use.
This is pursuant to the enabling act on commercial mining and sale of coal in the new Coal Ordinance (Special Provisions), 2014.
Currently, states are allotted coal blocks but with specified end-use such as power production, steel and iron production etc.
"Consequent to this Cabinet decision, such coal blocks will not be having any specified use.
So, the coal blocks which the states would mine, in turn, would be able to allot that coal to any industry.
This will ultimately benefit the medium and small scale industries, including small power plants, which can't source coal from Coal India," Anil Swarup, secretary, ministry of coal, told Business Standard.
The government's statement said this shall also enhance domestic production of coal to meet the demand of national economy, thereby reducing import.
The coal-bearing states shall be getting additional revenue from such coal mines.
"The revenue would be equal to the amount of royalty on the quantity of coal produced on a monthly basis during the lease period/life of the mine, as well as one-time upfront payment, which is 10 per cent of the intrinsic value of coal in the mine in three installments in the first year of allotment," said the statement.
It is expected that the incremental coal produce from such coal mines would cater to the unmet demand of the coal in the country, especially of medium, small and micro industries, and bridge the gap considerably between demand and supply.
Gasification in coal
In another key decision, the CCEA approved a policy framework for development of underground coal gasification in coal and lignite bearing areas in the country.
A policy based on revenue sharing will be adopted for offering the blocks through competitive bidding. Over the next two years, some explored blocks will be identified for offer.
OTHER APPROVALS
Pact with Met offices of UK, South Korea and Australia to jointly develop a model for better climate and weather prediction
Pact with Spain to strengthen ties in the ports sector
Pact on energy saving and energy efficiency among BRICS countries
Sale of 0.99 acres of Air India at Coimbatore for Rs 19.81 cr
Amendments in the Constitution (Scheduled Castes) Order Act, 1950, to modify the list of Scheduled Castes from Chhattisgarh, Haryana, Kerala, Odisha and West Bengal and in the Central List of Other Backward Classes of Chhattisgarh, Haryana and Kerala
Ex-post facto approval to amendments in the Commercial Courts, Commercial Division and Commercial Appellate Division of High Courts Bill, 2015