Even if one's own score is good, banks will reject any joint application made with a spouse with a bad credit rating.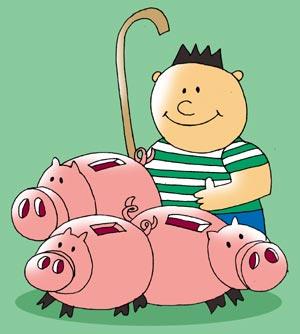 In the last couple of decades, there has been a substantial rise in joint loans, especially with one's spouse, for purchase of property or multiple properties and even cars.
This is because the purchasing power of a working couple improves substantially when they apply for a joint loan. For example, if a property is costing Rs 1 crore and the bank funds 80 per cent of it, the equated monthly instalment (EMI) for 20 years would be almost Rs 80,000.
If one person takes the loan, it would mean that the person has to have a salary of at least Rs 2 lakh a month (Rs 24 lakh annually) because banks would not consider more than 50 per cent of take-home salary for payment of EMIs.
If it is a joint loan with the husband or wife, the combined income will be considered.
And it helps substantially in garnering the loan. Consequently, even if one partner's credit score is found wanting due to financial stress before or after marriage, it will play a crucial role in the approval or rejection of the loan application.
The combined score: While a joint loan application can be rejected if the spouse's score isn't so good, there is nothing called a joint credit score. That is, your spouse's credit score will not affect your credit score.
Also, you do not take on your spouse's credit, either good or bad. However, obtaining financing as a couple will require that both of you have a good credit profile.
If you have great credit records, there are chances of getting a good financing deal as a couple. On the other hand, if your partner has a low credit profile, the likelihood of getting the loan sanctioned decreases
. If you keep your finances totally separate and your partner has bad credit, you will be forced to rely on your credit alone when the time comes for a major purchase such as buying a home.
If both the partners are working and apply for a loan jointly, the lender will look at their combined income.
However, the lender will also look at each of their credit reports and their combined debt-to-income ratios. A joint loan application can be rejected if one of the partners has a low credit profile or significant debt.
Also, if one of the spouses skips or fails to pay the EMIs of a joint loan, it could impact the credit score of both individuals. Let's take a real life example to understand this.
Ritesh Shah (name changed), an MNC employee based in Ahmedabad, applied for a joint home loan with wife Sunita, who works as a corporate secretary at a local real estate firm.
Their loan application got rejected despite the fact that they met the eligibility requirement under the lending limit of the bank. Shah was told by his bank to ascertain his credit score. Ritesh availed a credit information report (CIR) and to his surprise the credit score was not below the threshold limit. However, his wife Sunita's credit score was flawed as she had left one of her credit cards unclosed with a couple of outstanding payments.
The card was taken eight years ago when she was still a student.
The outstanding status on Sunita's credit report not only impacted her score but jeopardised the duo's loan prospects as well. When managing credit cards: Ensure that you are aware of your partner's credit card dues (if any) and make a plan to work towards paying them off jointly.
In case your spouse has a lot of debt, you will need to make sure the accounts don't become past due. Consider keeping your credit separate, at least until your spouse's credit record improves.
You don't have to combine your credit when you marry. For instance, apply for credit by yourself instead of applying for joint credit after you're married. You can have a separate credit card(s) issued for your spouse to use. Even if your spouse has bad credit, your credit rating will remain unaffected.
However, remember that you'll have a harder time qualifying for loans alone than if your spouse's income is included. If your spouse is a heavy spender, encourage him or her to start using a joint card to encourage wiser spending habits.
If you have issued an add-on credit card, the primary repayment liability rests with you and hence you need to ensure that the card is used within your repayment powers and the bills are paid on time.
Tips to lead a healthy financial life:
* Calculate your net worth individually and as a couple. Share information about full-time or part-time income; monthly expenses; and existing loan and credit card debt. * Share your credit reports and credit scores.
It is crucial to know about your partner's credit report. Carefully review the reports and correct any erroneous listings. Remember your partner's credit history will easily become part of your own report as you start a life together.
* Map out short-term and long-term financial goals, including preferred living standards.
Each partner should discuss retirement accounts, property owned prior to marriage, etc.
* Build a good credit score. If your partner has bad credit, maintain separate accounts for the time being, but work with him or her to pay off the debt and begin the process of improving his or her credit score.
* Develop a plan to reduce debt redundancies and to pay off debt. Identify areas where bills unnecessarily overlap, and look for opportunities to use your married status to decrease expenses. Use your savings to reduce credit card debt.
Carrying significant debt into your marriage can affect the interest rates you might qualify for when applying for a home loan. The writer is managing director, emerging markets, Equifax Inc