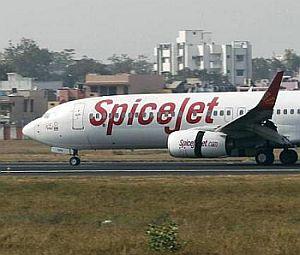 After all its flights remained grounded for most part of the day on Wednesday, cash-strapped SpiceJet resumed operations in the evening as oil companies, which had stopped fuel supplies to its aircraft, eased the restriction.
Hassled passengers vent their anger as over 75 flights were cancelled today. Around 75 flights are scheduled to operate after 1600 hours with the resumption of jet fuel supplies when the troubled carrier paid cash for the purchases.
While SpiceJet COO Sanjiv Kapoor tweeted an apology for the disruptions, an airline spokesperson said the flights "scheduled to depart at 1600 hours or for later are operating today." He also said that the flights cancelled earlier would "remain cancelled."
The Bombay Stock Exchange also sought a clarification from the airline on Kapoor's assertion about resumption of flight operations.
Not a single flight of the airline took off since morning after the oil companies refused fuel supplies to the carrier for non-payment of dues of the public sector oil marketing companies, which an airline spokesperson said totalled Rs 14 crore (Rs 140 million).
The Civil Aviation Ministry had on Tuesday requested the oil companies and airport operators to extend a 15-day credit facility to SpiceJet to save the airline from shutting down.
The Ministry had also asked Indian banks and financial institutions to extend loans of upto Rs 600 crore (Rs 6 billion) to the airline as part of measures to keep it functional.
Besides, it said it would request the Finance Ministry to permit external commercial borrowing (ECB) for working capital as special dispensation.
All these measures, however, came with a rider that the beleaguered airline will commit capital infusion at the earliest.
The airline has total liabilities of Rs 2,000 crore (Rs 20 billion) which include dues to the public sector oil firms and the Airports Authority of India (AAI).
© Copyright 2022 PTI. All rights reserved. Republication or redistribution of PTI content, including by framing or similar means, is expressly prohibited without the prior written consent.