Ministry sources say investors are looking at pumping in around Rs 1,100 crore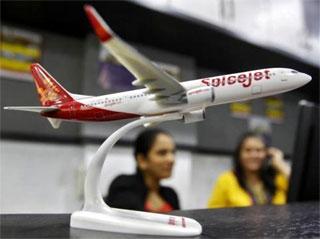 SpiceJet on Thursday limped back towards normalcy by operating nearly 230 flights through the day even as it started to quietly offer fares at substantial discounts for the next few days to woo customers with a last-minute holiday plan.
Some hope of a revival of the ailing airline was indicated by civil aviation minister Ashok Gajapathi Raju who said SpiceJet was talking about roping in an investor and a deal was expected in a few days. Ministry sources said former promoter and director of the airline Ajay Singh, who met Raju, was expected to come out with a plan to the government on Monday, which might involve a consortium of foreign investors.
Top sources in the ministry say investors are looking at pumping in around Rs 1,100 crore (Rs 11 billion), which they believe would get it back on track. The airline has exposure of about Rs 100 crore with City Union Bank, which is secured through a collateral.
It has tax dues of Rs 100 crore (Rs 1 billion) and has already paid Rs 400 crore (Rs 4 billion). The fund infusion could be accompanied by operational changes such as trimming of Bombardier operations (so that it can go back to a single plane configuration) and closing down of some sectors.
The airline, according to ministry sources, has paid up to Rs 13 crore (Rs 130 million) of its overdue amount to oil companies (Rs 1-crore dues remain) and is picking up fuel in cash-and-carry mode. On Wednesday night, it forked out Rs 3 crore (Rs 30 million) and sources said it would have paid about Rs 5 crore (Rs 50 million) on Thursday (the normal daily fuel bill). A senior executive of oil company HPCL said: "They had paid Rs 50 lakh (Rs 5 million) till morning and we will continue to give them fuel as long as this money lasts. However, there has been no request for further refuelling."
Sources say SpiceJet has told the minster that it had earlier opted for cash-and-carry mode as oil companies offered fuel at a rate 13 to 16 per cent cheaper. However, it is now willing to pay the higher fuel cost provided the oil companies offer a 30-day credit line as is done for other airlines.
The airline has assured the Airport Authority of India that it will give a bank guarantee of Rs 120 crore (Rs 1.2 billion) soon. SpiceJet has dues of Rs 200 crore (Rs 2 billion) with AAI and had earlier given a bank guarantee of only Rs 82 crore (Rs 820 million). The airline has started offering deep discounts on all key holiday routes as well as metros. For instance, its fares from December 21 to 25 between Delhi and Goa are the lowest at Rs 7,842 a ticket. Rivals are selling these around double the rate at over Rs 14,000. Fares between Mumbai and Goa for SpiceJet in the same period are about Rs 4,189 a ticket, almost half of those offered by rivals.
Even on metro routes, fares have been dropped drastically. As of Thursday afternoon, SpiceJet was offering fares between Delhi and Mumbai around Rs 5,402 a ticket (non-refundable and non-flexi fares where only taxes would be refunded) between December 21 and to 28, at least Rs 1,000 cheaper than the nearest rival's.
According to travel portals, the airline's bookings have fallen by over 70 per cent from normal. "The airline collects deposits from travel agents and allows them to sell tickets of the deposit value. If earlier the deposit amount covered two days' sale now it suffices for 10 days," said an executive from a leading air ticket consolidator.