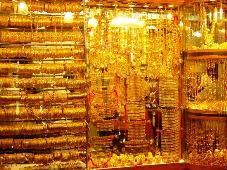 Gold and silver prices fell sharply on Saturday, following encouraging US jobs data on Friday.

Prices in Mumbai's Zaveri Bazaar dropped by Rs 365 to Rs 30,380 per 10g in a day.

In the last two days, prices have corrected by Rs 560.

Silver, too, saw its price drop by Rs 1,410 a kg on Saturday to close at Rs 58,780 a kg.

The white metal has fallen over three per cent, or Rs 2,070 a kg, in two days.

The fall is being seen as an encouraging sign for buyers, ahead of Dhanteras and Diwali, festivals considered auspicious for buying gold.

Short-term speculators have turned bearish on gold following the correction.

Previously bullish positions have been trimmed in both the futures and spot markets.

Encouraging US non-farm payrolls have lowered expectations of further economic stimulus and, therefore, subdued the demand for gold.

Traders on the Multi Commodity Exchange extended their positions, resulting in the open interest increasing 3.97 per cent on Saturday.

Several traders rolled over long positions to avoid selling their gold holdings at a loss.

Some bearish positions have been added.

Consequently, the open interest for all gold contracts on the MCX shot up to 24,783 kg on Saturday from 23,878 kg on Friday.

The yellow metal for delivery in the near month fell by 1.26 per cent on the MCX to close at Rs 30,498 per 10g on Saturday.

"We see the gold price to plunge to $1,650 an ounce in London, translating thereby to Rs 29,800 per 10g in India," said Prithviraj Kothari, managing director of RiddiSiddhi Bullion and president
of the Bombay Bullion Association.
Bullion hit a two-month low on Friday in London, down almost two per cent this week, witnessing its fourth consecutive weekly decline.
Spot gold fell to touch an eight-week low of $1,679.04 an oz mid-trading, before closing at $1,680 on Friday.
The metal has now erased all its gains after the US Federal Reserve announced its latest bond-buybacks or QE3 to boost the job market in September.
"Better-than-expected payroll numbers reduced the risk demand for gold, and a drop below $1,700 an ounce triggered sell-stops and selling momentum.
"The price decline has come at just the right time, which boosted buying sentiment in India," said Gnanasekar Thiagarajan, director, Commtrendz Research, a Mumbai-based commodity research firm.
"The trend seen over the years is that gold prices rise during Diwali and silver manages to edge up post the festival of lights.
But, the bullion price in India retreated over five per cent from the high reached on September 14.
Consequently, gold demand is expected to rise in the upcoming festival season, which would continue until December due to weaker prices and stronger jewellery and investment purchases," said Kothari.
Shree Ganesh Jewellery House Managing Director Umesh Parekh reported a 10 per cent increase in jewellery sales on Saturday. The trend remained skewed towards jewellery instead of investment products such as coins and bars, he said.
Rajesh Mehta, managing director of Rajesh Exports, one of the country's largest gold jewellery manufacturers and retailers, says prices would remain subdued for some time on indications of a recovery in the global economy.