We are surrounded by food that is contaminated, adulterated and does not meet Indian safety and packaging standards, says Abheet Singh Sethi/IndiaSpend.com.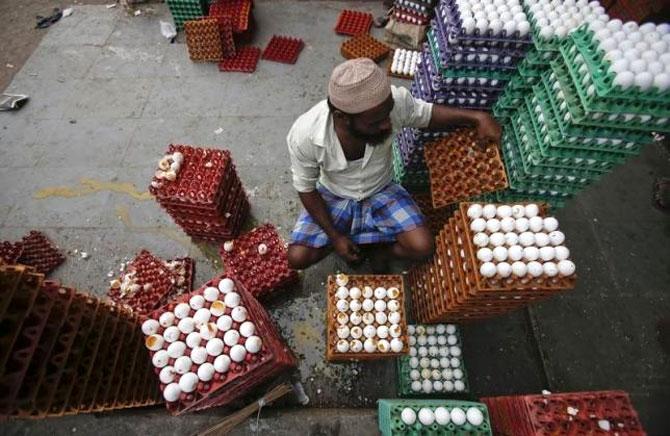 64 per cent of the loose edible oil sold in Mumbai is adulterated, according to a study conducted last year by the Consumer Guidance Society of India. The study tested 291 samples of sesame oil, coconut oil, groundnut oil, mustard oil, sunflower oil, cottonseed oil and soybean oil.
Arsenic above "critical limits" was found in cereals, pulses, vegetables, roots and tubers; cadmium above similar criticality was found in cereals, fruits and curd, in a 2013 M.S. University of Baroda study. Both heavy metals are toxic to human beings.
28 per cent of eggs sampled in Uttar Pradesh's Bareilly, Dehradun and Izatnagar towns were contaminated with E. coli (effects include diarrhoea, urinary and respiratory infections and pneumonia) and 5 per cent with multi-drug resistant salmonella bacteria (effects: diarrhoea, fever, cramps), according to this 2013 study by the Indian Veterinary Research Institute.
More than half of all duck eggs–a local staple in Kerala–sampled in the prosperous town of Kottayam were contaminated with salmonella, according to this 2011 study.
Nearly 69 per cent of 1,791 milk samples in a nationwide study did not conform to Indian standards (though they weren't necessarily unsafe). Milk, as IndiaSpend reported earlier, is one of the most-commonly adulterated food items in India, followed by oil and eggs.

As you can see, we are surrounded by food that is contaminated, adulterated and does not meet Indian safety and packaging standards. What we have presented to you is only a sampling of recent studies on Indian foodstuff.
Why Maggi hit the headlines
Maggi two-minute noodles are only the latest to be found violative of food-safety standards. Maggi's case–given its popularity–is playing out in a blaze of publicity, as more states ban the noodles and has now been withdrawn from the Indian market by its manufacturer Nestle India.
"The trust of our consumers and the safety of our products is our first priority. Unfortunately, recent developments and unfounded concerns about the product have led to an environment of confusion for the consumer, to such an extent that we have decided to withdraw the product off the shelves, despite the product being safe," said an official statement by Nestle India.
"This is a very serious issue as it concerns the safety of consumers. Therefore, for the first time, the government has suo motu complained to the Consumer Commission to take cognisance of the matter on behalf of a class of consumers," Consumer Affairs Minister Ram Vilas Paswan said.
The move comes after product samples analysed by Food Safety and Drug Administration (FDA), Uttar Pradesh were found nearly seven times above safe limits.
The permissible limit of lead in food items like Maggi is 2.5 parts per million (ppm), according to Food Safety and Standards (Contaminants, Toxins and Residues) Regulations, 2011. Maggi samples analysed by UP FDA were found to have lead concentration at 17.2 ppm, raising fears of possible lead poisoning among consumers.
Lead poisoning clearly poses serious health risks, and can lead to insomnia, anaemia, constipation and brain damage.
The findings of the Uttar Pradesh FDA prompted several states to similarly conduct tests on Maggi; Delhi, Uttarakhand, Gujarat, Jammu and Kashmir and Tamil Nadu have also temporarily banned Maggi sales. Other brands, such as Wai Wai Xpress Noodles, Reliance Select Instant Noodles, Smith and Jones Chicken Masala Noodles and Leong Hakka noodles have also now been banned in different states.
Since health is a state subject, states have their own FDAs to test if foodstuff adhere to safety regulations laid down by Food Safety and Standards Authority of India (FSSAI).
Lead isn't only in food
But foodstuff isn't the only thing that violates safety standards. The air you breathe, the water you drink, even your walls could hold the main toxin that Maggi noodles are suspected to contain.
Lead is also present in household paint.
A third of enamel paints analysed had lead concentration above 10,000 ppm, 111 times more than Bureau of Indian Standards (BIS) standards of 90 ppm, according to a recent study by Toxics Link, "Lead in Enamel Household Paints in India in 2015".
The study tested 101 enamel paints, of which 32 paints revealed high lead concentrations. All 32 paints were made by small and medium enterprises.
Lead (and other carcinogenic heavy metals) has also been commonly found in everything from spinach in Delhi and Nagpur to brinjal, tomato and beans in West Bengal. Indeed, there are few vegetables that do not display lead contamination, primarily deposited from vehicular exhaust, as this 2013 study of carrot, radish, beet, cabbage and other vegetables in West Bengal revealed.
Unclear how MSG crept into Maggi
Besides lead, high levels of added monosodium glutamate (MSG), a taste enhancer, was also found in Maggi. MSG is widely used in what is called "Indian-Chinese" food.
MSG should not be added to "pastas and noodles (only dried products)", according to Food Safety and Standards Rules, 2011.
Glutamate is one of the most common, naturally occurring non-essential amino acids, which is found in tomatoes, parmesan cheese, potatoes, mushrooms, and other vegetables and fruits.
MSG is "generally recognised as safe" by U.S Food and Drug Administration, though it is considered harmful in India.
Major complaints arising from MSG use include burning sensations of the mouth, head and neck, headaches, weakness of the arms or legs, upset stomach and hives or other allergic-type reactions with the skin.
Maggi is the most recognisable instant noodle brands in India, commanding a 70 per cent share. This could justify the nationwide uproar against revelations of adulteration. This also raises fear of several other food items being adulterated.
Bottom line: India cannot keep pace with its toxins
Detection is crucial to counter the growing problem of food adulteration, but the country has not established enough testing laboratories.
India, as this IndiaSpend report shows, has only 148 food-testing laboratories.
This means, each laboratory serves 88 million people. China, by contrast, has one laboratory for every 0.2 million people.
The percentage of food samples found not conforming to FSSAI regulations increased from 12.77 per cent in 2011-12 to 18.80 per cent in 2013-14, a 6 per cent increase over three years.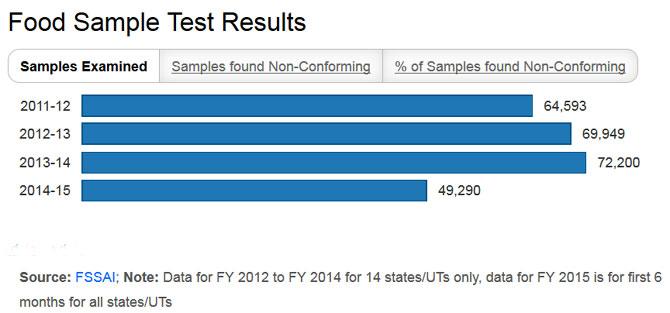 So, while products are violating safety norms, government agencies have cracked down on violators. The number of convictions in food-adulteration cases increased from 764 in 2011-12 to 3,845 in 2013-14, a 403 per cent rise.
As the data show, it isn't close to adequate.
Powered by

Indiaspend.org is a data-driven, public-interest journalism non-profit