A contested will of a widow, a long-serving family confidant turned antagonist, the fierce litigious fight for little-known Birla Corporation marked the first major controversy for this storied and reserved business family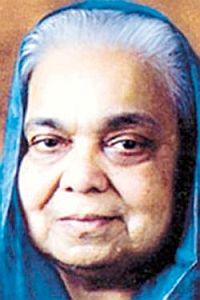 Birla Corporation had a humdrum existence till the purported will of Priyamvada Birla (left) catapulted it to enthralled public attention, with all its attendant accusations of fraud, malfeasance and misconduct. This marked the first time this reserved and storied business family, with links to the freedom movement, had faced a controversy of this nature. It certainly stirred Kolkata's somnolent business world.
In contention were the assets of a jute and cement manufacturer, a modest performer. The reason it set the dovecotes aflutter at Birla House is that Priyamvada Birla, widow of Birla Corporation promoter Madhav Prasad (grand uncle to Kumar Mangalam Birla of the Aditya Birla Group, probably the best-known Birla today) had bequeathed her estate, believed to be around Rs 5,000 crore (Rs 50 billion), to well-known Kolkata-based chartered accountant, Rajendra Singh Lodha in July 2004.
Lodha also happened to be the sole executor of the will, allegedly written in 1999. The drama began a few days after Priyamvada's death when Lodha appeared at Birla Park, the Birla family residential complex in Gurusaday Road, south Kolkata, to read the contents of the will.
Three generations of Birlas were present: Madhav Prasad's cousins Basant Kumar Birla (Kumar Mangalam's grandfather) and Krishna Kumar Birla (now late), nephews Sudarshan Kumar and Chandrakant and grand nephews Sidharth Birla (also Sudarshan's son) and Yashovardhan Birla. Madhav Prasad and Priyamvada had no children, so all of them expected charitable trusts to inherit the estate.
The explosive will was, apparently, read out "blandly". As it turned out, to the utter disbelief of some, Lodha, a rank outsider, was also the beneficiary of the will. He left shortly after reading it but the battle lines were drawn. The Birla family decided to challenge this alleged will.
But Lodha was no stranger to the Birla family. His entry into Birla's inner circle was via Basant Kumar's son, the late Aditya Vikram Birla. Lodha's financial acumen gained him the position of financial advisor in many Birla companies, including Madhav Prasad's.
In the years leading to Priyamvada's death, Lodha had secured her confidence, too. Priyamvada Birla was "Badi Ma" for Lodha and he carried out her wishes to the hilt. Lodha was appointed co-chairman of Birla Corporation in 2001, roughly three years before Priyamvada Birla's death.
An awkwardly worded extract from the minutes of a Birla Corporation board meeting dated, September 15, 2001, captures the relationship: "The Chairman mentioned how Shri R S Lodha had, on the request of Late Syt M P Birla been helping all these years in many of the Group's matters from time to time and how she keenly wanted him to succeed her. She also added how she had been desiring since a couple of years that Shri Lodha take over as the Chairman of the Company but Shri Lodha was keen that she continue as Chairman as long as she can. After discussion and the suggestion of the Chairman, the Board unanimously resolved that Shri Rajendra S Lodha be and is hereby appointed as co-chairman of the company with immediate effect."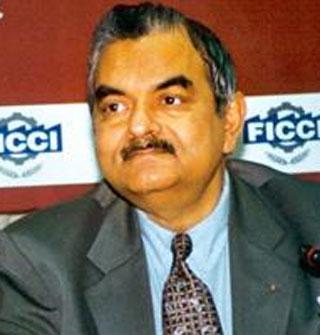 Image: Rajendra Singh Lodha's financial acumen gained him the position of financial advisor in many Birla companies.
In corporate circles, therefore, Lodha's new-found status was hardly a surprise. Even when Madhav Prasad was the Chairman, Birla Corporation was run by professional managers. Jute was a sunshine industry then, and in keeping, the company used to go by the name of Birla Jute Manufacturing Company. In 1983, the name was changed to Birla Jute & Industries; in 1997, it was rechristened Birla Corporation.
For about 25 years, from the 1950s to the 1980s, Sudarshan Birla (Madhav Prasad's cousin Lakshmi Niwas' son) managed Satna Cement, a unit of Birla Corporation. Sometime before Madhav Prasad's death, Priyamvada Birla took charge and followed the same pattern of management, restricting personal involvement to policy decisions and relying on some trusted lieutenants to manage the company. Lodha was undoubtedly the most important among them.
In 2004, when Priyamvada Birla died, Birla Corporation's profits were modest at Rs 41.56 crore (Rs 416 million), but a civil suit filed by some Birla family members in 2010, claimed the assets of Madhav Prasad and Priyamvada Birla to be worth Rs 20,000 crore (they were valued at Rs 5,000 crore at the start of the battle in 2004).
To say the legal battles that followed between the Birla family and Lodha over Priyamvada Birla's estate was dramatic would be putting it mildly. Legal luminaries like Arun Jaitley and Ram Jethmalani descended on Kolkata to represent the Birla family in different cases. A letter written by the late Gajanan Birla (Yashovardhan Birla's grandfather) in the presence of none other than the Father of Nation, surfaced. More wills of Madhav Prasad and Priyamvada Birla, other than the fateful 1999 one, came to light.
When not fighting in court, Birla Corporation's annual general meetings became a platform for the two parties to slug it out. Followers from the two camps ensured the meetings lasted through the day, punctuated by a ruckus from shareholders or proxy shareholders.
Much water has flowed under the Howrah Bridge in the past decade, with little outcome for Birla Corporation. The court battles are still running their course. The total number of cases ran to 110 at one point; about half are pending judgment. The main case, probate of Priyamvada Birla alleged will of 1999, is pending trial.
In the interim, the protagonist of all of this, Lodha, died of a cardiac arrest in 2008, ironically, at the central London residence of Basant Kumar. After Lodha's death, Basant Kumar, now 93, had reportedly said the legal battle over the wills was no longer important. But legal cases seldom wane or maybe 10 years is not a long enough period in India's labyrinthine system.
The baton has passed on to Rajendra Singh's younger son, Harsh Vardhan Lodha, as Priyamvada Birla had wished — or so said the purported will of 1999.
Amid the conundrum, Birla Corporation has trudged along while fighting some 45 proceedings. Net sales grew from Rs 468 crore (Rs 4.68 billion) in 1990, at the time Madhav Prasad's death, to Rs 1,034 crore (Rs 10.34 billion) in 2004 under the leadership of Priyamvada Birla, and to Rs 3,016 crore (Rs 30.16 billion) (at the end of March 2014) during the Lodha regime. Net profit has grown in the same period from Rs 4.65 crore (Rs 46 million) to Rs 129.8 crore (Rs 1.3 billion). In tune with the times, cement now accounts for 93 per cent of the company's turnover. Clearly, the numbers are free from encumbrances of the battle of wills.
A high-stakes battle
Sep 15,'01 R S Lodha, a well-known Kolkata-based CA, appointed director and co-chairman of Birla Corporation
Jul 3,'04 Priyamvada Birla dies
Jul 12,'04 R S Lodha moves Calcutta High Court for probate of Priyamvada Birla's will, which named Lodha as beneficiary
Jul 28,'04 Court battle begins
Oct 3,'08 R S Lodha dies of a cardiac arrest
Oct '09 Harsh Vardhan Lodha appointed chairman of Birla Corporation