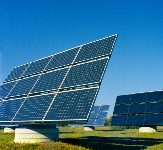 Nuclear energy will continue to be an inevitable option for India as other alternative renewable energy sources like solar will take few more years to establish as a commercially viable technology, according to experts.

Trying to contain the unjustified, yet growing sudden spurt of apprehensions against nuclear energy production in India, experts from radiation safety, nuclear technology and nuclear medicine explained in Mumbai at a seminar how the nuclear power technology in India and the world is 'mature and safe'.

Speaking on 'Nuclear Energy: Perceptions and Reality' at a day-long seminar 'Nuclear Energy in India', hosted by the Vijnan Bharati in Mumbai on Sunday, former chairman of Atomic Energy Commission Anil Kakodkar explained the scientific realities while demystifying the perceptions few people have about nuclear energy.

"India needs nuclear as well as solar energy to meet its huge energy requirement but at the same time commercial technology viability has to be taken into consideration," he said.

"It is unfortunate that those who are blindly anti-nuclear are ready only to listen to all unscientifically exaggerated 'facts' and it seems the country is at crossroads," Kakodkar said.

He said, "although the nuclear technologies are mature and safe, still due to such argumentative mood created in the country recently, the projected power generation through the imported reactors has been further delayed."

"We have lost three years already," he stressed.

Dr D V Gopinath, chief executive 'Energy and Environment' Mysore and a former Head of the Radiation safety and Health and Environment division at Bhabha Atomic Research Centre said, "India needs to increase any form of energy (electricity) as several studies have shown that just by adding 100 units of electricity per person can change the quality of life in the form of better nutrition, better health and increase in life expectancy."

It has also been shown that increase in per capita electricity availability from 500-600 units has increased life expectancy by two years from 63-65 and a reduction in death rate by four lakh, Gopinath said.

"All energy options have some risks -- environment or health but it is important allow the people to get more electricity from any source -- be it nuclear, solar, Hydro or wind as it has also been shown that electricity availability is closely linked to Gross Domestic Product and all the human welfare parameters," he explained.

Scientists and radiological experts at the seminar also pointed out that even for the recent Fukushima nuclear accident which was a serious one with 50 per cent core melt down, the impact in terms of radiation dose to operating personnel has been much below the accepted limits and for environment it was minimal.

"We can not envisage any accident more in severity in the present day reactors because of the evolution in technology.

"Though it was a tragic accident due to an unprecedented tsunami, it has proved that even in the case of a worst accident, nuclear energy is relatively safer," they said seconding it with several facts and figures.

Others who participated in the seminar include: Dr BSK Naidu, chairman, Institute of Energy Management and Research, Gurgaon, Dr Rajan Badwe, Dean Tata Memorial Hospital, Dr S V Panse, adjunct professor, department of physics, Institute of Chemical Technology, Mumbai, Dr A M Bhagwatm former Head, Radiation Safety system and Dr Pradeep Kumar, Head, Emergency Response systems and Methods section of BARC.
© Copyright 2022 PTI. All rights reserved. Republication or redistribution of PTI content, including by framing or similar means, is expressly prohibited without the prior written consent.