According to a source SoftBank is in favour of Ola acquiring the Indian unit of Uber, but the finer details of the deal are being discussed
Illustration: Uttam Ghosh/Rediff.com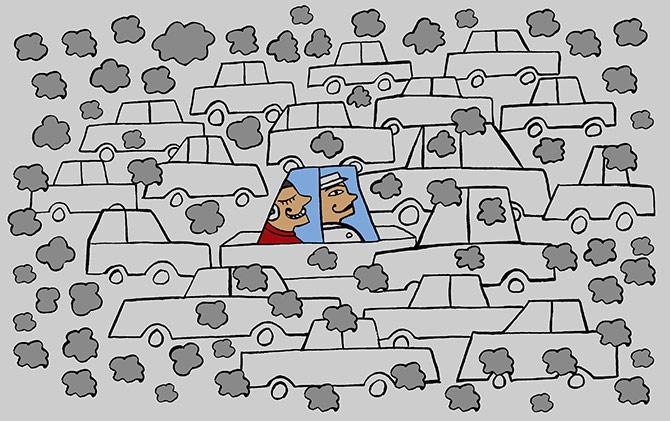 Japanese investment giant SoftBank has called for a merger between homegrown Ola and US firm Uber's India unit as part of its planned consolidation in Asia's fast-growing ride hailing app market.
The talks, facilitated by SoftBank, which is the largest investor in both companies, have been going on for nearly a year, according to sources close to the development.
However, in the past few days, this call for a merger between Uber and Ola has gathered steam.
Softbank's push for consolidation in India's ride hailing market comes days after Uber announced its exit from Southeast Asia after selling its local unit to rival Grab.
Post the completion of that deal, Uber will control 27.5% stake in the combined entity.
"Talks have been on between the senior executives of both the firms (Uber and Ola)," said one of the persons with direct knowledge of the talks, declining to state who the officials are given that the information is not public yet. "The deal may be closed in a couple of months," the person added.
Another source added that SoftBank is in favour of Ola acquiring the Indian unit of Uber, but the finer details of the deal are being discussed.
Both companies are looking at having a controlling stake in the combined entity, which is also why the talks have been progressing relatively slowly so far.
Softbank declined to comment on the development, while an Uber spokesperson denied that any such talks on a potential merger or acquisition are currently on.
An Ola spokesperson declined to comment on this development, but said the Bengaluru-based company is always looking for opportunities to grow its footprint.
"In India's transformative digital journey, Ola will always be an active and integral part for decades to come. SoftBank and all other investors are committed in realising this ambition," the company said in a statement.
If the deal goes through and Ola acquires Uber's India unit, it will mark the US firm's fourth large retreat globally.
The company has so far sold its China unit to rival Didi, Russian unit to local player Yandex and earlier this week it also announced the sale of its Southeast Asia unit to Grab.
"The great news about our Grab deal is that it allows us to double down to invest aggressively in our core markets - and we consider India very much as core to Uber's success.
"We'd, of course, look at any deals that can add value to our partners and shareholders, but we believe in controlling our own destiny in India," Dara Khosrowshahi, CEO of Uber, had said in an internal statement that was sent to employees and was later made public on the company's blog.
While both companies claim leadership in terms of market share in India, independent analysts peg that the gap between the two firms is not that large.
This has been a major point of contention in the truce talks that Softbank is calling for between Uber and Ola.
Previously, both companies were seen to cut driver earnings simultaneously which experts said was indicative of a peace treaty between the two.
Uber might be under immense pressure from investors to cut losses in order to go public, but the company says it is still invested in India and will leverage profits it earns from its other markets to win in the country.
The US firm is estimated to burn between $22-25 million every month, which while significant, is still far less than the billions of dollars it was burning in markets such as China and Southeast Asia.
Ola's burn rate is said to be slightly lower than that of Uber, but not by much.