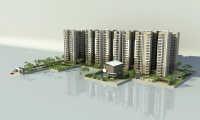 Bangalore-based real estate major Sobha Developers launched the much-awaited first smart home project - Sobha Habitech - in Bangalore on Monday.
All apartments in this first-of-its-kind gated residential community in Whitefield, the IT hub of Bangalore, will be equipped with a patented smart home automation technology.
These homes aim to provide a safer, more energy efficient and a more convenient environment to live in. Technology has already changed the way we connect and communicate but now is changing the way we live too.
These smart homes can sense your mood and customise the lighting, fans and AC to your liking, will show at your touch pad or smart phone who is at the door and will also alarm you in case of any gas leakage in the kitchen.
The bathrooms will be lit up sensing your arrival and the boom barrier at the apartment's entrance will open automatically sensing the presence of your car.
Also, your elderly folks just need to press a soft panic button in the house, in case of any emergency, to reach you or others for help.
Mothers busy in household chores or working in their office would be able to watch their kids play safely in the garden on their smart phone as there is video surveillance at all the common areas at Habitech.
"Sobha Habitech is just the beginning of a series of landmark projects planned this year by Sobha Developers in Bangalore. It caters to the need of the houses of the future. Till now, these features were only available in bits and pieces in the living spaces of the tech-friendly lot but for the first time, Bangalore will have a whole residential community equipped with these features.
"Backed by the undeterred reputation for quality, reliability of delivery and a keen anticipation for this project, we feel assured that Sobha Habitech will be one of the most successful projects of Sobha," said JC Sharma, Managing Director, Sobha Developers Ltd.
The project, spread over four and a half acres in the heart of Whitefield, will have as many as five towers comprising 318 super luxury apartments including 2 BHK, 3 BHK as well as 4 BHK duplex penthouses.
There will also be a luxurious ground and a three storied clubhouse along with all the desirable amenities and 72 per cent open space that would appeal the well travelled and ever-alive IT crowd of Bangalore.
Amenities like children's play area, swimming pool, steam-sauna and Jacuzzi, gymnasium, badminton court, cricket pitch etc., are also part of the development.
Located merely two kilometers from ITPL, Sobha Habitech will be the third project of the
company in Whitefield after the runaway success of Sobha Rose and Sobha Amethyst.
Whitefield is Bangalore's original IT hub which houses some of the biggest names of India's technology companies as well as world renowned MNCs that sparked the IT revolution at the dawn of 21st century and put the city proudly on the global map.
It still contributes to more than 50 per cent of the total software exports from Bangalore. More than a hundred thousand professionals work in blue chip companies located in some of south India's biggest technology parks including the prestigious ITBP (erstwhile ITPL).
It is home to techies from around the world and brings the cosmopolitan facelift to Bangalore that is visibly represented in demographic profile of the Whitefield area.
You can find the best of schools for your kids like Ryan International and TISB as well as the hippest shopping destinations, malls and multiplexes for recreation including Phoenix Market City and Forum Value Mall.
Specialty hospitals and prestigious hotels like Taj Vivanta, built by Sobha Developers, are also present in the area.
"Whitefield has gradually but systematically grown to be one of the preferred residential areas for the tech-savvy, well-travelled and elite class of IT professionals who now can get a taste of high-tech living in these smart homes of Sobha Habitech project," said JC Sharma.
Sobha Habitech will also have a rainwater harvesting system, sewage treatment plant, organic waste converter and other leading innovative green design concepts.
Quality oriented vitrified tiles add subtlety to the flooring and skirting in bedrooms, living rooms and the dining area. Plastic emulsion paint adds durability to the walls and ceiling.
Like all other projects, each floor comes with a mandatory fire exit zone. The four 14 storied and one 15 storied RCC framed sturdy structures will be built with concrete block masonry walls. Spaciously planned car parks will be available for the residents and visitors.
Sobha is the most preferred real estate brand among discerning home buyers in Bangalore, the Silicon Valley of India and formally recognised as the "Best Indian city to live in" on all parameters.
Over the past 16 years, Sobha Developers Ltd. has delivered over 50 million square feet of hallmark properties. In the fiscal year 2010-11 alone, Sobha has registered an impressive turnover of Rs 1,000 crores (Rs 10 billion) in residential space alone.
This, in itself, is testimony to the brand equity of Sobha Developers Ltd - a Rs 15 billion real estate company listed on the BSE and NSE. Sobha Habitech will herald a new era of smart living in Bangalore.