The Kunal Bahl-led firm wants to add 1,000 sellers every three months in its loan scheme.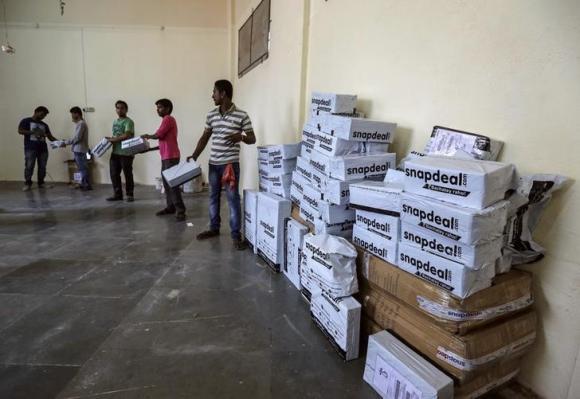 Online marketplace company Snapdeal is planning to offer capital assist loans worth $1 billion to its sellers in the next three years.

The move is to ensure that the merchants on the Snapdeal platform, now at 200,000, stay loyal.
The Kunal Bahl-led firm wants to add 1,000 sellers every three months in its loan scheme.

"We are targeting a total loan disbursal of Rs 6,000 crore (Rs 60 billion) by the end of 2017-18. We would do the financing with the help of participation of 22 banks and non-banking financial company (NBFC) partners," said Vijay Ajmera, senior vice-president, capital assist, Snapdeal.
Recently, Snapdeal's biggest rival Flipkart began a pilot with 250 sellers and disbursed loans worth Rs 50 crore (Rs 500 million) in collaboration with top banks and financial institutions.
The Bengaluru-based e-commerce firm will now extend the pilot to all its 80,000 sellers.
In October, Snapdeal had said it would support small and medium enterprises (SMEs) and merchants with up to capital assist loans worth Rs 1,000-crore (Rs 10 billion) over the next six months.
"We are financing the loans 100 per cent through banks and NBFC partners. While 70 per cent of the loans are for less than Rs 10 lakh, which helps aid a large number of our smaller sellers to grow and expand their business, 30 per cent of loans are for above Rs 10 lakh," Ajmera added.
Under the scheme, pre-approved loans are offered to assist sellers to scale operations.
"Though pre-approved loans are common place for individuals, this was the first time they were rolled out for SMEs in India. Under this programme, working capital collateral free loans amounting to Rs 1 lakh to Rs 1 crore (Rs 10 million) are availed. The loan offers were made on the basis of sellers' previous sales history with Snapdeal," said Ajmera.
The company has given out loans to sellers in around 300 cities in India, as of now.
It is also planning to work with the government and provide loans to village level entrepreneurs and also provide them a platform to sell their products.
To ensure the loans given out do not turn into bad debts, the company has developed a strong analytics programme built to check for warning signs that a seller might not be able to pay the loans.
"Such early warning systems have ensured we have a return on investment of 13 per cent, which is quite a lot," said Ajmera.
Kunal Bahl, co-founder and chief executive of Snapdeal, had earlier said ideally, capital assist schemes like theirs should not exist.
"If the eco-system of finances was friction-free enough, e-commerce companies need not get into the system of facilitating finances," he had said.
Keeping sellers happy has become very important for these online marketplaces.
The more sellers an online portal has, the more stock keeping units per product would be able in their kitty for sale.
However, of late, deep discounting and dwindling profits have made sellers wary of online marketplaces.
Hence, such loan assist programmes are the best way to ensure sellers are with them for the long haul.
Snapdeal.com has an assortment of 15 million products across 500 categories.
It has partnered with several global marquee investors and individuals such as SoftBank, BlackRock, Temasek, Foxconn, Alibaba, eBay, Premji Invest, Intel Capital, Bessemer Venture Partners, and Ratan Tata, among others.
NEW MOVES
The move is to ensure that the merchants on the Snapdeal platform stay loyal
The company has given out loans to sellers in around 300 cities in India, as of now
It has developed a strong analytics programme built to check for warning signs that a seller might not be able to pay the loans
Recently, Snapdeal's biggest rival Flipkart began a pilot with 250 sellers and disbursed loans worth Rs 50 crore in collaboration with top banks and financial institutions