Along with a robust set of numbers, the management too sounded confident of its growth prospects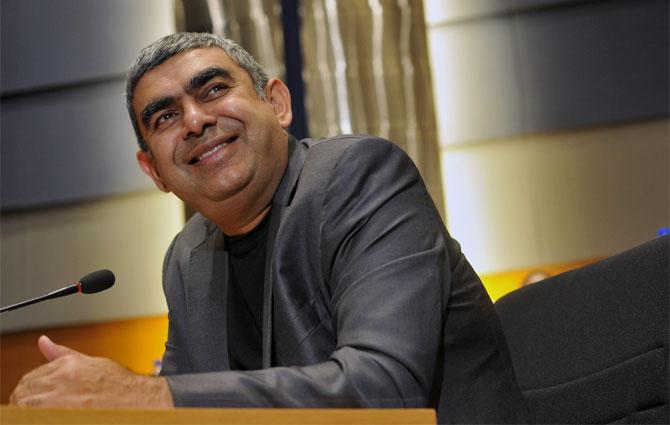 Infosys shares closed 11 per cent higher on the bourses, on Tuesday, as the company beat street estimates on top line, reported an in-line margin growth and upped its US dollar revenue forecast. Along with a robust set of numbers, the management sounded confident about its growth prospects.
Here are 6 reasons why the stock shot up:
Guidance
The street has always looked at Infosys results for guidance, considering Tata Consultancy Services (TCS) does not give one. It is after several quarters that the company actually upped its US dollar revenue guidance from 6.2-8.2 per cent in dollar terms to 7.2-9.2 per cent. However, the company maintained its constant currency guidance for the full year at 10-12 per cent in Indian rupees.
This also means that the company's deal pipeline and growth prospects look much better.
Top line growth
Both in Indian rupees and US dollars, the revenue growth came in much better. At Rs 14,354 crore for the quarter, revenue growth of 7 per cent on a quarter-on-quarter basis was highest in last 15 years. In US dollar terms revenues grew 4.5 per cent. This was higher than competitor TCS, which reported dollar revenue growth of 3.5 per cent and a sequential growth of 6 per cent in Indian rupees.
Growth came in better as the company managed to mine its large clients better. For instance, the largest client is now a $300 million account. It added two clients in the $200 million list.
Volume growth
Volume growth at 5.4 per cent was the highest in 19 quarters. This was also higher than TCS at 4.8 per cent.
Attrition
One key concern among investors and analyst was rising attrition. In the first quarter, however, Infosys managed to get it down to 14.2 per cent. This was at 23.4 per cent in June 2014 quarter. Though higher than the 13.4 per cent in the preceding quarter, on a year-on-year basis attrition was down 900 basis points.
The attrition numbers are better than TCS, which has seen it go up in the past few quarters. For the first quarter of FY16 attrition was at 15.9 per cent.
The other healthy parameter for Infosys was utilisation. It managed to pull it to 80.2 per cent (excluding trainees) and 75.7 per cent (including trainees). Excluding trainees attrition was at 78.6 per cent in the preceding quarter.
Confident management
Since Vishal Sikka has taken over as the CEO, Infosys has been sounding confident, and with him at the helm of the company for a year now, the numbers too are looking better.
More importantly, Sikka's transformation and focus on digital and platforms are now showing results along with the traditional business. For instance, the company won six large deals with a total contract value of $688 million.
Digital and automation
Unlike TCS, Infosys did not break its revenue from digital. However, Sikka too agreed that every deal has a digital component.
"All our work is digital," he said. It also seems that its inorganic strategy in the digital space is working as it won 16 deals last quarter thanks to the Panaya acquisition. Almost 1,400 projects are using automation in an innovative way and around 30 projects are under implementation using Artifical Intelligence.