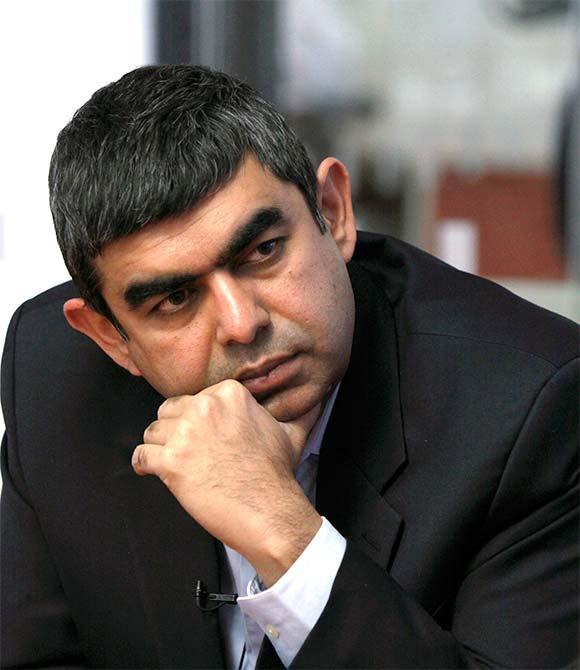 Infosys has said it will look into allegations that $200-million Panaya deal was significantly overvalued.
Infosys will investigate a whistle-blower's charges on the acquisition of Panaya, an Israeli company, even as the information technology major's Chief Executive Officer Vishal Sikka hit out at detractors for making "false and malicious" charges against him. He said they were designed to target him to "the point of harassment".
In a strongly-worded email to employees, Sikka said reports questioning the company's acquisition of Panaya were "orchestrated by people who are hell-bent on harming the reputation of the company and its employees".
He claimed there was "no wrongdoing" in the acquisition, and the company would defend the allegations.
The company on Monday denied that the management benefited from the acquisition, saying they were "libellous and aimed at tarnishing the (company's) image".
"Infosys has a strong, established internal process to evaluate acquisition targets and make investments. In the case of Panaya, all the requisite steps in this process were followed. The letter alleges Infosys acquired Panaya at a 25 per cent margin to the valuation of Series-E investor that came in on January 8, 2015. It should be noted that the Series-E investor was a minority shareholder (less than 15 per cent) and was towards preferred stock, whereas Infosys' acquisition in Panaya is for 100 per cent stake," the company stated.
"Regardless of the malicious intent of this anonymous letter, the company will pursue its normal course of action and investigate the charges made," it added.
Two weeks ago, Infosys founders led by N R Narayana Murthy, had raised a red flag over severance pay to former chief financial officer Rajiv Bansal, saying that the company violated corporate governance norms.
While Murthy and the board decided not to further discuss the issue in public, the Infosys co-founder maintained that his concerns remained.
Sikka reached out to Infosys employees for a third time on Monday, after the fresh allegations were made on illegalities in the Panaya acquisition, which Bansal had opposed.
Sikka maintained he was being targeted because he was bringing changes to Infosys, adding these distractions were expensive, draining and time-consuming.
"Change is never easy, and change at the scale that we are undertaking may be unprecedented, and perhaps it is this change that has so inflamed some into trying to drag us all into the mud. And yet, change we must," Sikka wrote. "There is no other way."
The fresh statements came after an anonymous whistle-blower wrote to the Securities and Exchange Board of India, saying Infosys overpaid for the Panaya deal and that Bansal had walked out of a meeting called to approve the Israeli firm's acquisition by the board.
The whistle-blower's letter stated, "Infosys acquired Panaya on February 16, 2015, for $200 million and valued the company at 25 per cent premium against the valuation of $162 million by Series-E investors", a month before the deal. Panaya was struggling to raise money and employees were leaving the company, the complainant wrote.
"As we've said publicly before, we take every whistle-blower's complaint very seriously, and there is due process to investigate any complaint that comes to us.
"However, there is no doubt that these attacks are orchestrated by people who are hell-bent on harming the reputation of the company, and its employees. We cannot let these stand unchallenged," wrote Sikka.
Image: Vishal Sikka/Reuters.