The share of women workers in registered factories submitting annual returns — working more than the statutorily-mandated maximum limit of 48 hours in a week — increased to a 11-year high of 33.6 per cent in 2019, shows the latest annual data released by the labour bureau.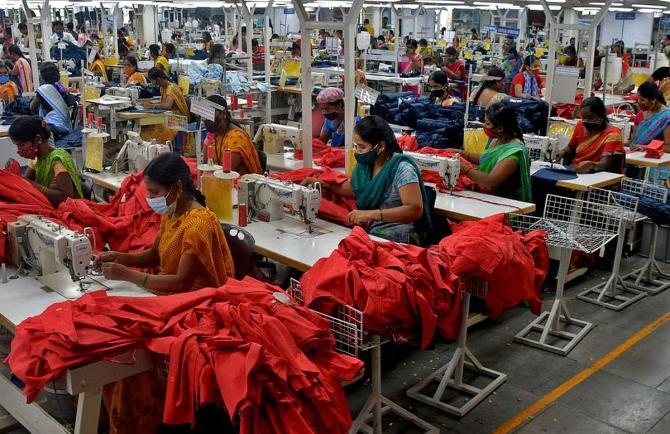 In comparison, only 27.9 per cent male workers worked more than the statutorily-mandated hours.
Earlier in 2008, 39.2 per cent women workers had worked more than the prescribed work time.
The annual data on implementation of the Factories Act, 1948, released by the labour bureau with a time lag, is a compilation of data furnished by states/Union Territories (UTs).
The rules framed under the Act impose an obligation on all registered factories to submit annual statutory returns.
These pertain to work hours, leaves, health and safety measures, inspections and convictions to the labour commissioner in their respective states/ UTs.
Section 51 of the Act prescribes that no adult worker shall be required or allowed to work in a factory for more than 48 hours in any week.
This becomes significant in the wake of the recent changes made by Karnataka and Tamil Nadu in their application of the Factories Act.
In these states, the Act now allows 12-hour shifts, and the easing of rules for night-time work for women.
This is a bid to increase the women labour force and attract investments.
Though, the weekly work hours continue to be capped at 48 hours.
Besides, 58.5 per cent of women worked between 45 and 48 hours weekly, as opposed to 64.6 per cent male workers.
Though, fewer men worked less than 42 hours in a week (3.1 per cent) compared to 4.5 per cent women.
Factories in Tamil Nadu employed most women in overtime work (3,177), followed by Andhra Pradesh (2,317) and Kerala (1021).
Amarjeet Kaur, general secretary, All India Trade Union Congress (AITUC), said the increase in women work hours is primarily due to the numerous exemptions provided under the existing legislation to low-cost, export-oriented sectors like textiles, paper and footwear.
"In the guise of export promotion and ease of doing business, various state governments, including Karnataka, have infringed upon workers' rights by changing the work hours.
"This will not only have a negative impact on the working conditions but also the wages and productivity of employees, especially women.
"Research shows that longer working hours are not beneficial to the employers," she added.
The report further notes that there is an increase of 2.56 per cent in the number of total registered factories — from 2,28,837 in the beginning of the year to 2,34,696 at the end of the year (2019).
Of this, nearly 30 per cent factories (56,659) submitted returns.
Of the total employment generated by these working factories, adult men constituted 77.7 per cent of the total average daily employment, whereas adult women constituted 22.2 per cent.