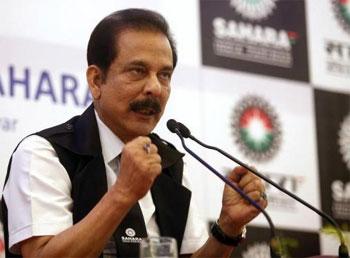 The Supreme Court on Tuesday expressed concern over how Sahara Group would raise money to secure its chief Subrata Roy's release, as the group sought extension of facilities inside Tihar jail premises by four to six weeks to enable him negotiate deals with prospective buyers.
The apex court expressed concern about the payment of money to be made by Roy to secure his release from jail. "You are struggling to pay Rs 10,000 crore. How will you pay Rs 30,000 crore after coming out," the bench asked.
A bench headed by Justice T S Thakur also asked the counsel for Sahara group to file an appropriate application in regard to its request.
Earlier in a new turn of events in the case, RBI had moved the apex court seeking to implead itself as a party in the company's tussle with SEBI and sought to stop one of its firms from disposing off assets for securing Roy's release.
In an application, Reserve Bank of India (RBI) urged the apex court to restrain Sahara India Financial Corporation Ltd (SIFCL) from utilising any of its assets, including securities, for paying dues to SEBI on the ground that SIFCL is Residuary Non-Banking Financial Firm and fell under its (RBI) regulatory control.
Prior to this, the Sahara group had informed the apex court that the proposed transactions for a loan of around $1,050 million from abroad for raising Rs 10,000 crore to ensure Roy's release from jail had failed.
The apex court, on January 9, had allowed Sahara Group to go ahead with its proposed transactions with some conditions including the approval of RBI for the transfer to India of the funds raised in the US to meet the requirement set for release of Roy, who is lodged in Tihar jail since March 4 last year for non-refund of over Rs 20,000 crore with interest to depositors.