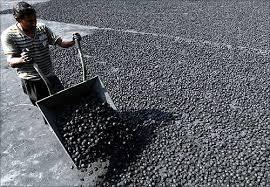 The Supreme Court decision to term coal blocks allotted between 1993 and 2010 as 'illegal' will hit hard at mining, cement, steel and power companies.

Investments worth Rs 2,00,000 crore (Rs 2,000 billion) were made in these sectors on the basis of an assurance on supply from the coal mines allocated by successive governments.

Any change in the status of these mines will mean disruption in production, loss of investment and increased production cost for user industries, fear the chief executives.

A report in 2012 of the Union comptroller and auditor general had said many top companies, including Jindal Steeland Power, Essar, Hindalco and Reliance Power, apart from many smaller ones, were allocated mines in such a manner as to result in a Rs 1,86,000-crore (Rs 1,860-billion) loss to the public exchequer.

The Central Bureau of Investigation has estimated a loss of Rs 29,000 crore (Rs 290 billion) to the government after a three-year, SC-monitored investigation.

The CEOs are worried that if mines are taken away or cancelled, many of the ongoing projects will stop.

Hindalco is one company already working on an alternative plan. Debnarayan Bhattacharya, its managing director and CEO, told this newspaper last week of a 'Plan B' if it did not get coal from its Mahan and Talabira mines.

Its parent Aditya Birla Group did not comment on Monday after the SC order. Both Essar and Hindalco own 50 per cent stake each in the Mahan block in Madhya Pradesh, allocated in 2006 and recently having received stage-2 clearance. The fate of this mine is uncertain, say lawyers.

Analysts say 25 per cent of Hindalco's existing aluminium output is backed by captive coal from Talabira 1 coal mine allocated in 1994.

Deallocation of this mine may impact Hindalco's existing operations.

For the Essar group, it's a double hit. Apart from Mahan, it took over Hyderabad-based Nav Bharat Power, which had an attached coal block, for Rs 169 crore (Rs 1.69 billion).


Nav Bharat might face a problem in retaining the mine, as CBI had last month chargesheeted the company's earlier promoters, for illegal allocation.
The CAG report had said the Anil Ambani-owned Reliance Power would benefit to the tune of Rs 29,000 crore (Rs 290 billion) after the government allowed it to divert coal from its Sasan Power project to other sites.
The SC on Monday stopped this diversion -- the company's stock fell by four per cent.
Congress MP Naveen Jindal's Jindal Steel and Power will be another big loser. It faces heat on two coal blocks.
The first, Utkal B-1 in Odisha, with a mineable reserve of 148.67 million tonnes, is linked to their steel project.
The other block, at Ramchandi in Talchar, with estimated reserve of 1,500 mt, is linked to its coal to liquids plant. The JSPL stock was down 14 per cent after the SC verdict.
"We are evaluating the SC judgment and the implications for JSPL," said a company spokesperson.
Many say they now expect the Modi Government to allocate natural resources through a transparent auction.
"There is simply too much history of corruption and controversy for the government to follow a discretionary process for allocation of natural resources.
"We expect state governments to also move to transparent auctions for award of natural resources like mineral ores in future," said an analyst.
This also means the cost of raw materials such as coal and mineral ores for upstream mining and downstream processing units will rise from the virtually nil cost currently, once the government moves to auction coal blocks and mineral ore mines, he said.
This is already the case for oil and gas blocks, where successful bidders share a part of their profits ("profit petroleum") with the government, apart from paying royalty (share of revenues).
Greenpeace welcomes verdict
Environmental lobby Greenpeace welcomed the apex court's order.
It stated the verdict will send a signal to the government that future mining decisions will have to adhere to high levels of scrutiny.
Greenpeace has been protesting against the proposed destruction of Mahan forests in Madhya Pradesh.