Country's largest lender State bank of India on Wednesday reduced interest rate on domestic retail term deposits by 50-100 basis points as a step to reduce cost of funds.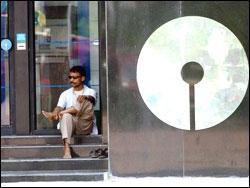 The revision in rate is for deposits up to five years. New rates are effective from September 07, 2012, SBI said in statement.
For deposits upto Rs 15 lakh (Rs 1.5 million), the new rate for 241 days to less than one year bracket is 6.5 per cent (earlier it was 7.5 per cent). For one year to less than 2 year time period, the new rate has been slashed to 8.5 per cent  as against 9 per cent.
A senior SBI official said the cuts happened because the deposit mobilisation has outpaced the credit growth. He added that: "The liquidity is comfortable, providing some room for reducing cost of funds. It will also help to protect margins."
For short term deposits: 91-179 days new rate is 6.5 per cent (7 per cent being old rate), 180 days new rate 6.5 per cent (7 per cent), 181-240 days the rate is 6.5 per cent (7.25 per cent).
The lender's retail term deposits rose by 24.97 per cent till June 2012 to Rs 4,36,976 crore (Rs 4,369.76 billion). The total deposits stood at Rs 11,02,926 crore (Rs 11,029.26 billion), showing 16.09 per cent growth in 12 months ended June 2012.
Its cost of deposits was 6.24 per cent as of June 2012 (5.66 per cent a year ago). The yield on advances was 10.86 per cent (10.43 per cent). The net interest margin was 3.57 per cent in June 2012 as against 3.62 per cent a year ago.