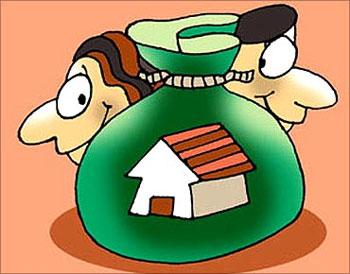 Stating that it does not foresee a rate war on the home loan front, the largest lender State Bank of India on wednesday said it is targeting an uptick in housing advances at 18 per cent on good demand and its aggressive rate posturing.
After a tepid 2014-15 on overall credit pick-up front, SBI is targeting to increase its overall loan growth to up to 15 per cent this fiscal as the economy has begun to look up, SBI managing director and group executive for national banking B Sriram told reporters on the sidelines of an event in Mumbai.
"We don't foresee any rate wars, all the lenders are competing with similar rates in similar bands. It's good for customers, as they have a larger choice now," Sriram said.
The official, however, hinted at not reducing the auto loan spreads, as it did with home loans, saying it currently offers the most competitive rates and customers have already benefited from the 15 bps reduction in base rate last week.
He further said that the bank is targeting to increase its housing loan growth to 18 per cent in current fiscal against 14.5 per cent in the recently concluded 2014-15.
As of December 2014, SBI had an outstanding housing loan book of Rs 152,905 crore (Rs 1,529 billion), up from Rs 135,129 crore (Rs 1,351 billion) in year ago period, registering a growth of 13.15 per cent, while market leader HDFC's loan book grew to Rs 219,951 crore (Rs 2,199 billion) during the same period, up from Rs 192,284 crore (Rs 1,923 billion) in the December 2013 quarter.
It can be noted that from last week, SBI, ICICI Bank, Axis Bank and mortgage lender HDFC have cut lending rates and adopted a more aggressive stance when it comes to home loans, wherein they have reduced their spreads and in some cases, taken the lending rate at par with the base rates.
SBI is lending to new women borrowers at par with its base rate of 9.85 per cent and for others, it has reduced the mark-up above the base rate to lend at 9.90 per cent.