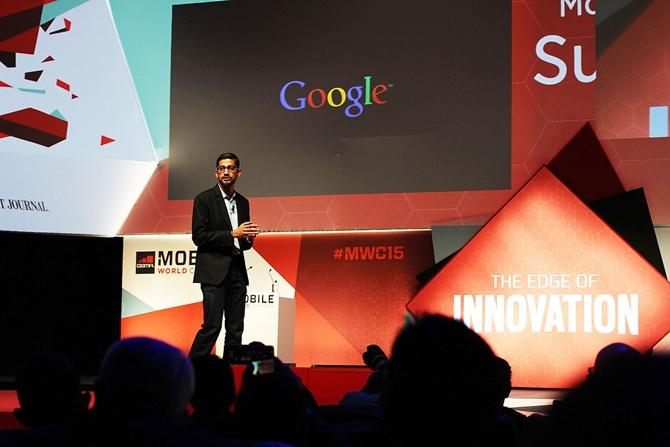 Image: Time magazine called Pichai "Larry Page's right-hand man" in a news report. Photograph, courtesy: Maurizio Pesce/Wikimedia Commons
Microsoft CEO Satya Nadella, Google's Executive Chairman Eric Schmidt and other technology executives on Tuesday congratulated India-born Sundar Pichai on his "well deserved" elevation as the new CEO of the search giant.
Pichai, 43, was named CEO of a newly organised Google, becoming only the third chief executive of the company after Schmidt and co-founder Larry Page.
"Really excited about the vision and brilliance of Sundar... he's going to be a great CEO," Schmidt commented on Twitter as well as on Page's blog post announcing the surprise re-organisation of the company and the formation of Google's new parent company Alphabet.
Schmidt said the new name for the parent company 'Alphabet' is "awesome".
Nadella also tweeted on Pichai's elevation at the company, writing in the micro-blogging site "Congrats @sundarpichai well deserved." (sic)
Bret Taylor, co-creator of Google Maps, ex-CTO of Facebook and Co-Founder of technology Quip also congratulated Pichai, the first non-white CEO, on Twitter.
"Congrats to @sundarpichai on his well deserved promotion to CEO of @Google. One of the most capable technology leaders I have worked with," Taylor tweeted to which Pichai replied "thanks".
He also replied "thanks" to another Tweet by Founding Editor of digital news daily MarketingLand, Danny Sullivan who posted "Wow.Google gets its third CEO, @sundarpichai — congrats!" (sic)
In a filing with federal regulator Securities and Exchange Commission, Google informed about its organizational restructuring.
"Concurrently upon completion of the Alphabet Merger, Sundar Pichai, age 43, will become the new CEO of Google Inc. Sundar is currently the Senior Vice President of Products at Google and oversees product management, engineering, and research efforts for Google's products and platforms.
"Since joining Google in 2004, Sundar has led a number of key consumer products which are now used by hundreds of millions of people and, prior to his current role, served as
Google's SVP of Android, Chrome and Apps," the company said in the filing in which it also noted that Pichai received a B.Tech from the IIT-Kharagpur, a MS from Stanford University, and an MBA from the University of Pennsylvania. Schmidt had become Google CEO in August 2001 and remained in the role till January 2011 when Page took over as the CEO again.
A report in the New York Times said Pichai will lead Google "with users in mind."
It said Google's new leader wants the technology to be "a servant perfectly attuned to the user's needs at the moment".
The NYT report cited a recent interview with Pichai in which he had said "I would love for my phone to scream if I am about to miss an important thing in my life, and never bother me if I'm doing something very important and the information coming in is less important than what I'm doing.
"That's how I think about it. To me it's about serving users the right way, and as part of that, sometimes you need to disappear and get out of the way," the report said.
It also noted Pichai's other suitors during his rise at Google.
In 2011, Twitter had tried to lure him over to run the company's consumer product division, according to two people familiar with the matter.
Last year, Pichai was rumored to be in the running to replace Steven Ballmer as chief executive of Microsoft.
It added that Pichai is well liked by many in the software community at large for his affable manner and friendly approach to his subordinates and contemporaries.
"Sundar never has a bad day. His positive energy is contagious and his optimism attracts the best talent," the NYT report quoted Chris Sacca, a venture capitalist and former colleague of Pichai's at Google, as saying.
Jordan Rohan, founder of Clearmeadow Partners, an Internet advisory firm, and a former Wall Street analyst covering Google, said Pichai had the approval of both the business side of Google as well as the engineers.
"He seems to be a very clear thinker with a strong vision, so he can handle the day to day and the dreamier aspects of Google," Rohan said.
Time magazine called Pichai "Larry Page's right-hand man" in a news report on the Google restructuring.
In the report, the publication said Page has increasingly relied on Pichai since starting his second stint as Google's CEO in 2011.
"Last year's restructuring had already made Pichai's unofficial No. 2. Now Page will have even more time to focus on Google's other big bets while Pichai manages the company's core competencies," the magazine said.
Time said after Chrome's success, Pichai also came to oversee Gmail and Google Docs in 2011.
In 2013, he also took over the helm of Android, among the most important divisions at Google. In 2014, he was named the company's product chief, bringing services like Maps and Google+ under his wing as well.
Pichai joins a gradually growing list of Indian-origin technology and business executives working their way up to head multiple-billion dollar worth American giants.