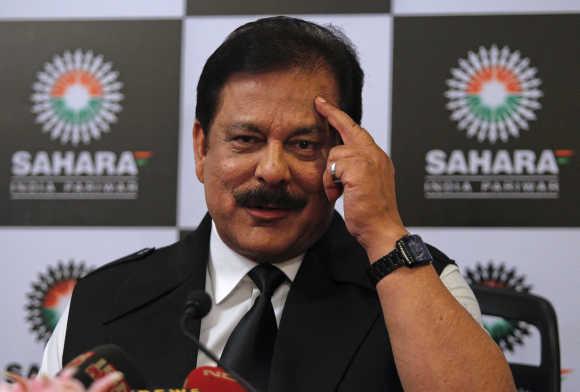 After selling land in Gurgaon for Rs 1,211 crore (Rs 12.11 billion) recently, the Sahara group is believed to have finalised two more realty deals, one in Mumbai and another in Jodhpur, for Rs 1,250 crore (Rs 12.50 billion).
Besides, talks are in final stages for sale of another land parcel in Pune, sources said.
Similar to the Gurgaon land deal, probably the biggest so far this year in the national capital region, all the three land lots might be sold to the local real estate developers in the respective cities.
The sales are part of the group's efforts to raise funds to secure release of its chief, Subrata Roy, from Tihar Jail, where he is lodged since March 4 in a case related to non-refund of money from investors even as the group claims to have repaid 93 per cent of the dues directly.
The group has also maintained the amount already deposited with the Securities and Exchange Board of India (Sebi) exceeds the pending dues.
In Gurgaon, Sahara has sold 185 acres to M3M India Ltd, which plans to use it for 'mixed-use development' and would pay the group the entire money in six instalments.
The deal was announced last Thursday, within days of the Supreme Court permitting Sahara to proceed with the sale of four domestic properties, likely to fetch Rs 2,710 crore (Rs 27.10 billion), in its bid to raise Rs 10,000 crore (Rs 100 billion) for Roy's release.
These four properties are in Chauma (Gurgaon), Jodhpur, Pune and Vasai (in Mumbai).
Sources said the Vasai land is being sold for Rs 1,111 crore (Rs 11.11 billion), and that in Jodhpur for Rs 140 crore (Rs 1.4 billion).
Of a list of nine domestic properties submitted earlier to the court, Sahara has already sold its Ahmedabad property for Rs 412 crore (Rs 4.12 billion), which has gone into Sebi's account.
Roy, was sent to jail for non-refund of Rs 20,000 crore (Rs 200 billion) with interest to depositors.

It was asked by the court to pay Rs 10,000 crore to get bail, of which Rs 5,000 crore (Rs 50 billion) should be paid in cash and rest of the amount in a bank guarantee.
The group had earlier deposited Rs 3,117 crore (Rs 31.17 billion) with Sebi, followed by another amount of Rs 412 crore raised through sale of an Ahmedabad property.