Attracted by the boom in the automobile sector, Reliance Industries Ltd (RIL) has formed a joint venture with Russia's biggest petrochemical company, SIBUR, to jointly invest $450 million (Rs 2.040 crore) to set up a 100,000-tonne butyl rubber factory, said a company release. RIL will have majority stake.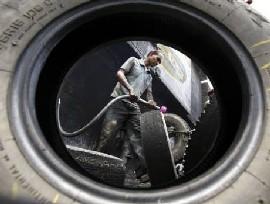 The agreement was signed against the backdrop of Russian President Dmitry Medvedev's ongoing visit to India. The unit would cater to the rubber demand of domestic tyre makers.

To be commissioned by 2013, it is to be located at RIL's integrated refining-cum-petrochemical site at Jamnagar, Gujarat.

It is to initially produce regular butyl rubber and then go on to make other butyl rubber specialities, the statement said.

SIBUR will provide its proprietary technology for butyl rubber polymerisation and finishing; RIL will supply monomers and provide the JV with 'world-class' infrastructure and utilities.

N R Meswani, executive director, RIL, said, "This is a significant step towards Reliance's commitment to service India's growing automotive sector, by bringing in complex technologies, available with only a very few companies globally.

The setting up of domestic manufacturing of butyl rubber will fulfil a long-standing demand of the Indian tyre and rubber industry and this investment is part of Reliance's vision of emerging as a significant global player in the synthetic rubber business."

"We are satisfied with the dynamics of the joint venture and hope to begin construction soon," said SIBUR's president, Dmitry Konov.

He added, "SIBUR has unique technologies for the production of synthetic rubber, which in partnership with Reliance will cater to the growing needs of the Indian tyre industry, with high-quality raw material."