The value of unclaimed securities and other assets was nearly Rs 20,000 crore (Rs 200 billion) in March 2020.
It could be just the tip of a capital market iceberg.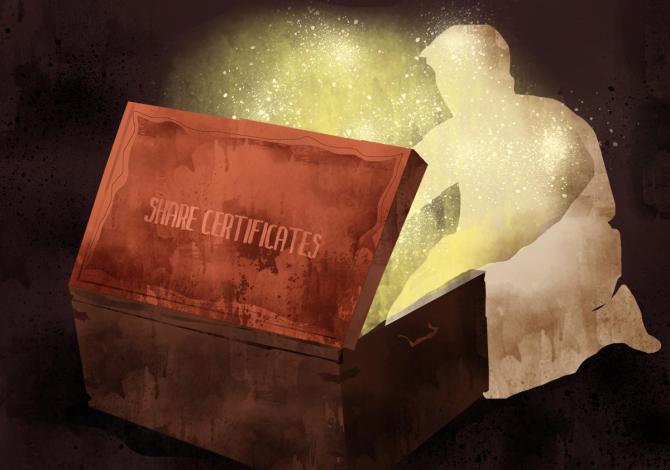 The oldest share certificate ever found was in a forgotten archive in the Dutch city of Enkhuizen, and it belonged to an assistant to the city's mayors, Pieter Harmensz.
The Dutch East India Company (Verenigde Oostindische Compagnie, or VOC) issued the share dated 1606 in the early days of its global business expansion.
The Securities and Exchange Board of India recently wrote to market record-keepers like registrar and transfer agents, seeking to determine the value of shares, dividends and other unclaimed securities market assets that may have been similarly forgotten.
The Dutch company is long gone, but the unclaimed shares here belong to companies still listed on the stock exchange.
The value of such unclaimed securities and other assets was put at nearly Rs 20,000 crore (Rs 200 billion) as of March 2020 and the amount may be only the tip of the iceberg.
Sebi found Rs 17,326 crore (Rs 173.26 billion) in unclaimed shares transferred to the Investor Education and Protection Fund (IEPF).
Other unclaimed amounts, including dividends and interest payments, were worth another Rs 769 crore (Rs 7.69 billion).
Unclaimed mutual fund assets were worth Rs 1,573 crore (Rs 15.73 billion).
Later, Parliament was told the unclaimed mutual fund assets were worth Rs 1,591 crore (Rs 15.91 billion) as of March 2021 (please see chart 1).
The Companies Act 2013 says that shares for which dividends have not been paid or claimed for seven years will be transferred to the IEPF.
This means that if you had a Rs 10 dividend cheque that you didn't bother to deposit, then your shares would be transferred from your demat account to the IEPF (you have to write to the fund to get your shares back).
The Sebi study established the total value of such shares as of March 2020 based on information from market institutions.
There are anomalies in the data. An application filed under the Right to Information Act in 2018 had pegged the value of unclaimed IEPF shares then at Rs 18,870 crore (Rs 188.70 billion).
New shares have been transferred since and the stock market has hit record highs.
This would suggest that the unclaimed amount has increased.
Business Standard analysed IEPF transfers for 28 out of the 30 S&P BSE Sensex companies since then.
The total holdings were worth Rs 7,918.7 crore (Rs 79.18 billion) in March 2020.
Around 9.5 million additional shares have been transferred for these 28 companies alone.
The market rise since then has meant that the value of unclaimed shares in these 28 companies has risen to Rs 17,395.5 crore/Rs 173.95 billion (please see chart 2).
If one takes the March 2020 figure and applies a similar increase, then the total value of unclaimed shares would exceed Rs 40,000 crore (Rs 400 billion).
This may well make it the largest of unclaimed fortunes; dwarfing banks, insurance companies and the amount in inoperative Employees Provident Fund Organisation accounts (please see chart 3).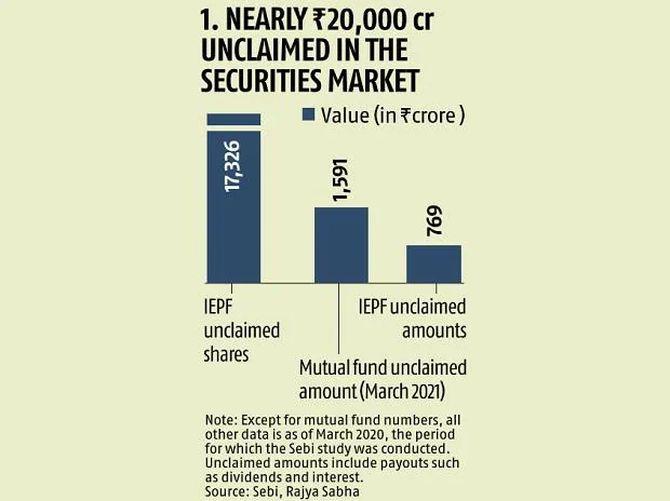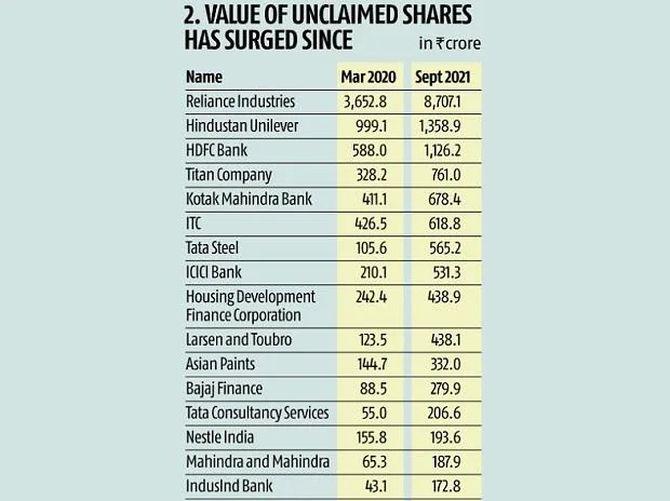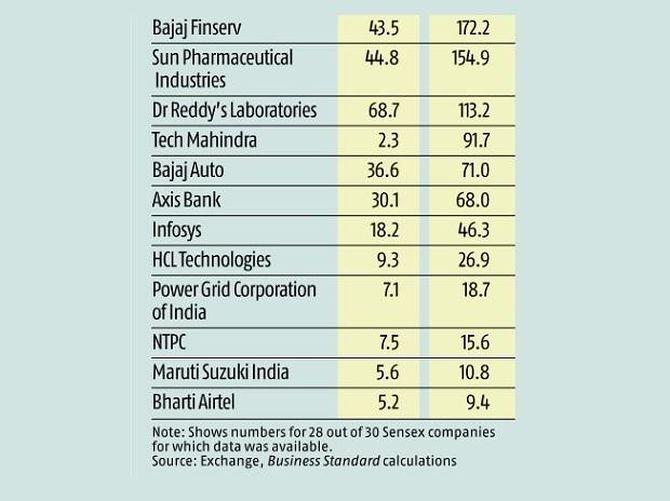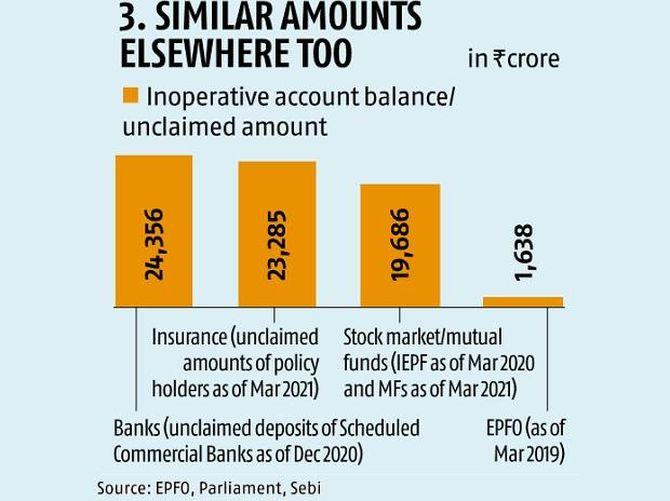 Feature Presentation: Aslam Hunani/Rediff.com