Multi-core loan default accused and promoter of Rotomac Group 73-year-old Vikram Kothari died in a freak accident at his Kanpur residence on Tuesday morning.
According to reports, the erstwhile stationery czar sustained grievous head injuries after slipping in his bathroom and later succumbed to his injuries.
He was reportedly alone at his Tilak Nagar residence at the time of the incident.
Vikram, also known as 'India's Pen King', was accused in a bank loan scam worth thousands of crores pertaining to Rotomac Global, which exported writing instruments overseas.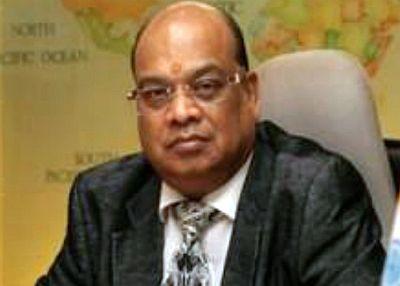 He shot to fame in the 1990s with the launch of Rotomac brand of writing instruments and quickly cornered a major share of the domestic market, while spreading operations to nearly 38 offshore destinations as well.
In 1973, Vikram's father, the late Mansukhbhai Kothari, had started the famous Pan Parag company, which soon became a household name in India owing to its aggressive marketing and publicity blitz.
Leading Bollywood actors Shammi Kapoor and Ashok Kumar featured in the ubiquitous Pan Parag ad on TV and the brand's tagline - 'Baraatiyon ka swaagat Pan Parag se kijiye' - became wildly popular.
So much so that Kanpur itself came to be called 'Pan Masala city' then.
At that time, Vikram and his brother Deepak assisted their father Mansukhbhai in managing the ever-burgeoning pan masala empire.
As business prospered, the group diversified and in 1992, the Rotomac Pens was formed.
However, in 1999, the two brothers decided to go separate ways after the death of the patriarch.
Elder brother Vikram took charge of the stationery enterprise, while younger brother Deepak took reins of the pan masala empire.
Vikram managed to turn around the pen company.
Rotomac had its glorious run and emerged a top player in the writing instruments market.
Its promotional tagline 'likhtey, likhtey, love ho jaaye', struck a chord with many.
Bollywood actors Salman Khan and Raveena Tandon were then its brand ambassadors.
As time went by, Rotomac Pens was rechristened Rotomac Global, while Vikram also moved into other sectors, including real estate, steel, and infrastructure, hoping to replicate his success.
However, what seemed like an uninterrupted success story soon gave way to a contrary reality as he found himself accused of a bank loan default.
The Central Bureau of Investigation had arrested him on February 23, 2018.
The case pertained to bank loans worth Rs 2,919 crore from 2008 onwards to Rotomac Global by a consortium of seven nationalised banks.
The amount later swelled to Rs 3,695 crore, including accrued interest, because of repeated defaults on payment.
He had to spend nearly two years in jail.
The court granted him bail on health grounds.
With inputs from agencies