Ron Somers, president of the US-India Business Council, while applauding the release of a new report by the Confederation of Indian Industry on Capitol Hill - in the presence of several US lawmakers from both the Senate and the House - reporting of how Indian companies through investments in the US were not only creating thousands of Americans jobs, but also saving thousands of others.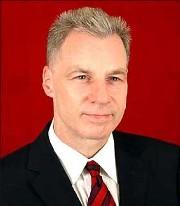 He said, "It's imperative that this show be also taken on the road to inform people in the heartland of this fact and debunk the outsourcing and off-shoring myth of the flight of US jobs to India".

The CII study, titled, 'Indian Roots, American Soil: A Look at Indian Companies in the US Economy,' spoke of how India-based companies were responsible for saving thousands of jobs in the US in recent years and have continued to hire locally wherever they have put down roots.

In an interview with rediff.com, following the release of the CII report at a Congressional reception at which the USIBC and several of its members participated, Somers said this campaign to get the message out "must be an incessant process because what we are learning is that Congress keeps changing and new people keep coming."

"So, we need to keep together, circle the wagons and keep the message focused that a stronger US-India economic relationship is job creating both in the United States and job creating in India as well. So, this is a message we need to continue to get out at every chance we can."

Somers said, "Number one, the message has to be that now we are living in a global economy and that a knowledge partnership with India is enabling our American companies team with their Indian partners to remain globally competitive."

"To remain globally competitive means job creation," he added.

"Number two," he noted, "the story of the contributions that these companies are making to the American economy is something that we need to continue to underscore - double underscore. And, Indian companies are investing heavily in America at a time when America needs that investment badly."

Somers continued, "Number three, we believe that the leadership of India and the people of India want to do more business with the United States of America, but when legislation passes up on Capitol Hill that appears or even smacks of being anti-India, it weakens the hand of the Prime Minister and the leadership of doing more business in the US."

Somers also spoke of how imperative it is "to get the message out to the heartland and to local communities in these areas."

"We need to take it on the road. We need to do road-shows, we need to do more of this around the country. There is a hunger for investment coming into the United States from India and there are more and more American companies going to India, but we are not reaching effectively out to the hinterland as we need to."

Thus, Somers said "organisations like the CII, lie the FICCI (Federation of Indian Chambers of Commerce and Industry), like the USIBC, need to take this story on the road."

He said that "there are many, many good human interest stories that need to be told and we need to get it out there so our people understand that India is a partner going forward in the 21st century."

Because otherwise, Somers cautioned, "In the end, what you worry about is that India is viewed as that other billion-dollar person economy that could possible take American jobs overseas."

"We have to reverse that story and tip it on its head," he asserted.