The network has been built by six telcos to handle high bandwidth demands of emerging technologies and applications.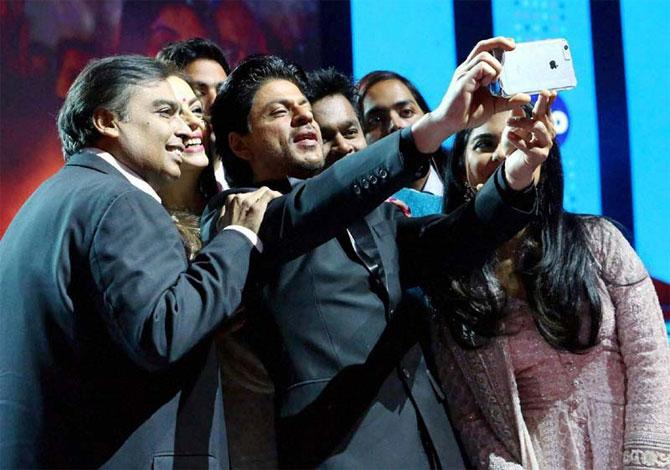 Image: Mukesh Ambani's family and Shah Rukh Khan at Reliance Jio 4G launch. Photograph: PTI
Reliance Jio on Monday announced that the Bay of Bengal Gateway's subsea cable network spread over 8,100 km was operational.
The network has been built by six telcos to handle high bandwidth demands of emerging technologies and applications.

The system is a direct trunk connection between Barka in Oman and Penang in Malaysia.

The network is owned by Dialog Axiata of Sri Lanka, Etisalat, Omantel, Reliance Jio Infocomm, Telekom Malaysia and Vodafone. Construction of the system began in May 2013.

The cable system will provide an alternate route to Europe by avoiding the congested Malacca Straits and other routes prone to cable cuts.

The system has a wide terrestrial network that will enhance its reliability.

The Bay of Bengal Gateway will have two landing stations in India - Vodafone will use Mumbai and Jio will use Chennai. Currently, Jio uses other subsea networks for its data traffic like SMW4, IMEWE, Europe India Gateway and Bharti's i2i.

With BBG, Jio will be able to cut its reliance on other submarine networks.
The Bay of Bengal Gateway uses advanced fibre optic technology that allows capacity to be increased without submarine intervention.

The initial capacity of the system is nine terabytes per second. The network connects to Europe, Africa and Southeast Asia with existing terrestrial and subsea cable systems.
Reliance Jio owns and operates the cable landing facility at Chennai.

"It offers not just direct connectivity in and out of India through Chennai and Mumbai but also acts as a state-of-the-art extension to Jio's core network," said Mathew Oommen, president, Reliance Jio.

"This connectivity brings international content hubs closer to our customers." Three other Indian companies have invested in subsea cable networks.
Reliance Globalcom's undersea cable system spans 65,000 km and is integrated with Reliance Communications' optic fibre network in India.

Tata Communications' global network comprises 206,356 km of terrestrial network fibre and over 500,000 km of subsea cable along with a trans-Atlantic and trans-Pacific data transfer capacity of one terabyte per second.

Bharti's i2i has a submarine telecommunications cable connecting India with Singapore, spanning 3,200 km with a landing point in Chennai.
LANDING STATIONS
Tata Communications owns 3 cable landing stations, each in Mumbai, Chennai and Kochi
Reliance Globalcom owns the Versova
Cable Landing Station in Mumbai
Bharti Airtel owns three cable landing stations, two in Chennai and one in Mumbai
Sify Technologies owns a cable landing station in Mumbai
BSNL owns its first international submarine cable connecting India and Sri Lanka and its cable landing station in Tuticorin. The Digha Cable Landing Station in West Bengal was also approved in May 2011 by DoT, for a submarine cable project between India and Southeast Asia
INDIAN FIRMS' UNDERSEA CABLES
Reliance Globalcom's undersea cable system spans 65,000 km. It is seamlessly integrated with Reliance Communications' optic fibre network in India
Tata Communications' global network comprises major ownership in 206,356 km of terrestrial network fibre and over 500,000 km of subsea cable along with a trans-Atlantic and trans-Pacific data transfer capacity of one Tbps
Bharti's i2i has a submarine cable connecting India with Singapore, spanning 3,200 km, with a design capacity of 8.4 Tbps, and a landing point in Chennai
Bay of Bengal Gateway, built by a consortium of six telcos, is a submarine cable system spread over 8,100 km, with multiple landing points across West Asia, Malaysia, India, Sri Lanka and Singapore
Sources: Companies, Submarine Cable Networks