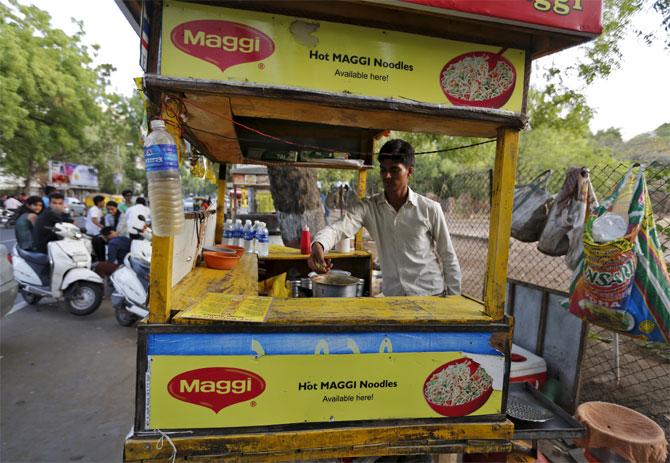 While food safety officials in the country are busy collecting and testing easy-to-cook packaged foods on a priority basis, manufacturers are burning the midnight oil to get the most out of the situation.
Since May, while sale of Nestle's Maggi products have plunged, competitors like ITC are loading their barrels to gain long-term market share.
Sources say Nestle's revenue from Maggi, an Rs 3,000-crore (Rs 30 billion) brand in India, has plummeted to a marginal level as sales of other products such as sauces, pasta, masala and soups, too, has declined 40 per cent in rural areas.
According to retail chain operators, although sales of noodles in the urban market has dropped, sales of noodles other than Maggi's has gone up in rural and semi-urban regions, which account for more than 60 per cent of all retail stores in India.
According to an official from sales division in the consumer goods major ITC, which sells Yippee noodles under the Sunfeast brand, sales forces are pushing the noodle in rural markets to fill the void after sales of Maggi noodles declined.

"We are supplying (noodles) at least three times compared to what we used to supply before the Maggi controversy started to our distributors," the official said on condition of anonymity. At present, Yippee holds second position in the noodles market in India behind Maggi noodles.
Apart from attempting to replace Maggi, ITC is preparing to woo noodle-lovers in the country with advertisements and on-field customer awareness programmes. "We are waiting for tests results (from government authorities). We are confident that they will find nothing (harmful) in our products since, we conduct stringent tests," the official said.
Soon after questions over quality of Maggi noodles arose, ITC's divisional chief executive (foods) V L Rajesh issued a notification to customers saying: "No restriction has been imposed in any state on the manufacture, distribution and sales" of its noodles.

Retail store owners from semi-urban markets, too, confirmed distributors are trying to push other noodle brands. And although the sales of other noodles have gone up in June, it is still lower than the total off-take before the controversy started. The ITC official, too, agreed. "Its hard to tell how much of it (stocks) will actually sell," he said, "as a large section of consumers still identify noodle, in rural and semi-urban areas, as Maggi."

Another official with ITC, however, claimed sales of its noodles have increased by at least three times in Rajasthan.
The controversy has also taken a toll on sales of other Maggi products. A Nestle India official confirmed, "Sale of other Maggi products (apart from noodles) has gone down by at least 20-40 per cent in different markets (across the country)." But sales of infant formula and milk products, which accounts for 47 per cent of its revenue, are stable. Sales of "beverages too are at a normal level", the official said.
But attempts are yet to bear fruits. According to the ITC official, the "real gain" could only be measured after dust settles.