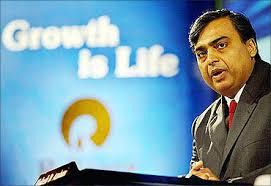 In a move seen as 'delaying tactics', Reliance Industries has proposed joint studies before an international expert is roped in to decide if its wells on KG-D6 block were drawing gas from neighbouring fields of Oil and Natural Gas Corporation.

RIL and ONGC on March 28 agreed to appoint neutral international expert to decide if four wells drilled on boundary of KG-D6 block were drawing gas from neighbouring gas discoveries of the state-owned firm.

The two were to exchange list of international experts at the last meeting on April 15, but RIL proposed a joint technical team to do more studies before seeking third party help, sources with direct knowledge of the development said.

ONGC, however, believes the issue can be resolved only by engagement of an international expert.

Two subsequent meetings proposed on April 28 and May 2 could not take place as RIL sought deferment.

Another meeting is scheduled for this week, they said.

While ONGC Chairman and Managing Director Dinesh K Sarraf could not be reached for comments, a source close to the company said RIL proposal was 'nothing but delaying tactics'.

A RIL spokesperson said, "We are engaged in constructive dialogue with ONGC on all matters.

"The last meeting on the afore-mentioned subject was held just last month."

"Given the geological complexities involved, the matter on hand can perhaps be settled by a third-party expert.

"We are awaiting the appointment of such an expert and we are confident that the matter will be expeditiously resolved to mutual satisfaction," he added.

Sources said Sarraf had briefed the company board on March 24 about the likelihood of RIL drawing gas from ONGC's G-4 and KG-DWN-98/2 blocks.

ONGC had approached the Directorate General of Hydrocarbonson the matter nine months back with a request to share production and well data of KG-DWN-98/3 or KG-D6 field for analysing if the reservoir of the neighbouring field has same and continuous gas pool.

The company's Godavari Block (known as G-4) and NELP-I discovery block KG-DWN-98/2 are contiguous to RIL-operated NELP-I Block KG-DWN-98/3 (KG-D6).

Sources said ONGC believes KT-1/D-1 gas find in block KG-DWN-98/2 and G-4 Pliocene gas find in Godavari Block extend outside the block boundaries into KG-D6.

ONGC believes that RIL's D6-A5, D6-A9 and D6-A13 wells drilled close to the block boundary may be draining gas from G-4 field of Godavari block while the well D6-B8 may be draining gas from DWN-D-1 field of KG-DWN-98/2 block.

RIL has maintained that there exist uncertainties with regard to the possibility of channel extension, sand continuity as well as the connectivity.
Image: Reliance Industries chief Mukesh Ambani