While Mukesh Ambani-led RIL posted a 108 per cent YoY rise in profit after tax for Q4FY21 at Rs 13,227 crore, it fell short of Bloomberg estimate of Rs 13,704 crore.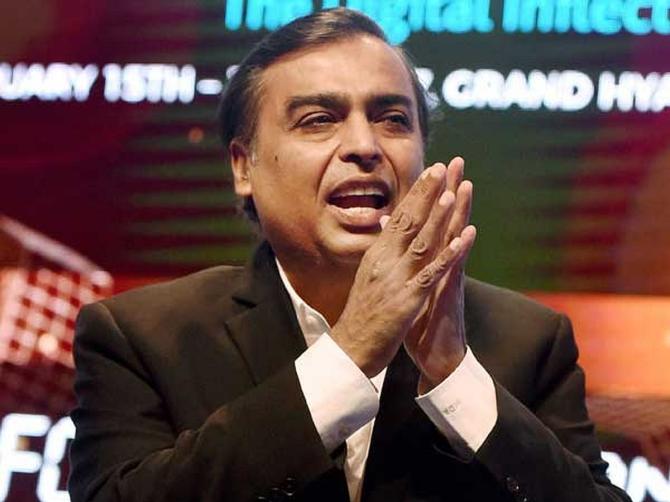 Shares of Reliance Industries (RIL) dipped as much as 2.5 per cent on Monday, as the oil-to-telecom conglomerate posted a mixed set of numbers for the March quarter on Friday that failed to enthuse the Street.
While Mukesh Ambani-led RIL posted a 108 per cent YoY rise in profit after tax (PAT) for Q4FY21 at Rs 13,227 crore, it fell short of Bloomberg estimate of Rs 13,704 crore.
RIL's revenue from operations rose 9.6 per cent YoY to Rs 1.5 trillion during the quarter.
Bloomberg analysts had pegged revenue expectations for Q4 at Rs 1.39 trillion.
Jio Platforms clocked a 47 per cent YoY growth in net profit, although its ARPU during Q4 stood at Rs 138.2 per month, as against Rs 151 per month in the trailing quarter.
The scrip settled the day 1.8 per cent lower at Rs 1,959.25 on the BSE.
Here's what top brokerages said on the company's results:
JPMorgan - Neutral
The management commentary was cautious given the second Covid wave, and overall, we see meaningful downside risks to earnings.
The earnings environment remains weak at the operating level with refining, retail and Jio outlook tepid.
Seasonally, we are entering the strong news flow period in the run-up to the AGM, which can keep the stock supported in the near term.
Morgan Stanley - Overweight
Our forecasts imply upside to Street estimates for FY22/FY23, supported by a supply slowdown in chemicals and refining and a rise in gas production and subscriber net adds.
We raise our petrochemical margin assumptions but lower retail revenue forecasts to factor in the impact of recent lockdowns in India.
We also see a slower path for rising ARPU, and hence, push it out to FY23.
Overall, we lower our FY22 earnings by 7 per cent, but see a 23 per cent CAGR from pre-Covid profitability as the upcycle plays out.
Nomura - Buy
With the recent surge in the Covid-19 pandemic, there would be an impact on key businesses.
We see the maximum impact on retail as footfall has declined to 35-40 per cent of pre-pandemic levels in April; this should impact Q1FY22.
We see a relatively lower impact in O2C as lower demand will likely be offset by higher margins.
In Jio, while we do not see much impact on subscriber growth, the expected tariff hike could get pushed by few months to the second half of FY22.
Near-term weakness doesn't weaken the medium-term outlook.
We expect a 33 per cent earnings CAGR during FY20-FY23.
CLSA - Outperform
A rise in Covid-19 cases impacted the retail business with only 44 per cent of its stores open in April.
This and a delay in tariff hikes, along with lower downstream margin, drive our 8-13 per cent cut in FY22-23 EPS but we maintain our target price as we reset our retail business target multiple.
Lack of significant triggers and potential earnings downgrades may limit near-term upside.
But we maintain an outperform rating on its long-term promise.
Goldman Sachs - Buy
RIL's Q4FY21 consolidated core Ebitda of Rs 22,800 crore was in line with our expectation with strong sequential improvement for the energy (17 per cent) and retail segments (33 per cent QoQ/21 per cent YoY).
Along with strong energy segment recovery, Q4 results showcased a shift towards free-cash-flow generation with core second half cashflow annualising at $1.5 billion, and omnichannel-led retail resilience with online sales annualising $1.5 billion in Q4 at 10 per cent of core retail revenues.
And, third, return of subscriber addition momentum for Jio.
"RIL's earnings are linked to the global recovery for energy (O2C segment), which is tracking well, while its India consumption exposure is more defensive for telecom and retail; providing some earnings insulation from potential second wave impact," the brokerage noted.
Photograph: PTI Photo