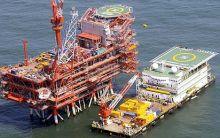 The companies will carry out exploratory drilling in an offshore block between Puducherry and Karaikal.
Reliance Industries Ltd, along with its partner British Petroleum, plans to invest about Rs 800 crore (Rs 8 billion) to carry out exploratory drilling in an offshore block in the Bay of Bengal, off the Tamil Nadu coast.

The Mukesh Ambani-led company is the operator of the offshore block CY-DWN-2001/2, also known as CY-III-D5, with 70 per cent equity, while BP holds the remaining stake.

Thus, of the total Rs 800-crore (Rs 8-billion) investment, BP's contribution would be Rs 240 crore (Rs 2.4 billion).

The block is off the east coast of India between Puducherry and Karaikal off Tamil Nadu.

The deep-water block covers an area of around 10,655 sq km with its nearest boundary about 22 km from the shore.

In 2011, BP joined hands with RIL for joint exploration for its 21 oil and gas blocks for a 30 per cent stake. RIL and BP have since relinquished 15 blocks owing to weak prospects.

RIL had struck a $7.2-billion deal with BP for the deal.

In August 2013, RIL and BP announced gas discovery in the offshore block.

The discovery was named D-56. RIL received environmental clearance to carry out 11 exploratory wells off the Tamil Nadu coast.

As on date, eight wells were drilled and hydrocarbon was discovered in two wells, said RIL.

"RIL is planning to carry out eight additional exploratory/appraisal well drilling to establish the reservoir capacity and commercial viability of hydrocarbons in this block area," RIL said in its project document. Business Standard has a copy of the same.

Investment in each of these wells would be around Rs 100 crore (Rs 1 billion) and the exploratory drilling campaign is expected to commence from the last quarter of FY15 and it will be a temporary phase extending three-four months for a well at a location.

RIL's existing supply base at Kakinada, which was established for the ongoing exploratory and development projects, will be used for the proposed drilling programme.

Seismic data and the drilling campaign in the area also revealed the presence of hydrocarbons.

However, to ascertain the quantum and economic viability of extraction of hydrocarbons, the company is required to drill 11 more exploratory/ appraisal wells within the block area.

If the company succeeds in the discovery of hydrocarbons and if it is commercially viable to extract, then the project will help reduce the supply demand gap of hydrocarbons in the country, said RIL.

In FY13, the production of crude was 0.75 million barrels a day, which is 21 per cent of the consumption of 4.35 million barrels a day.

Indigenous crude oil production has remained stagnant over the past five years and it is unlikely to improve in the near future unless new discoveries are made, said RIL.
Please click here for the Complete Coverage of Budget 2014 -15