There are some great buys after the government's announcement to revive their fortunes. But, hold the stocks for at least two to three years, say experts.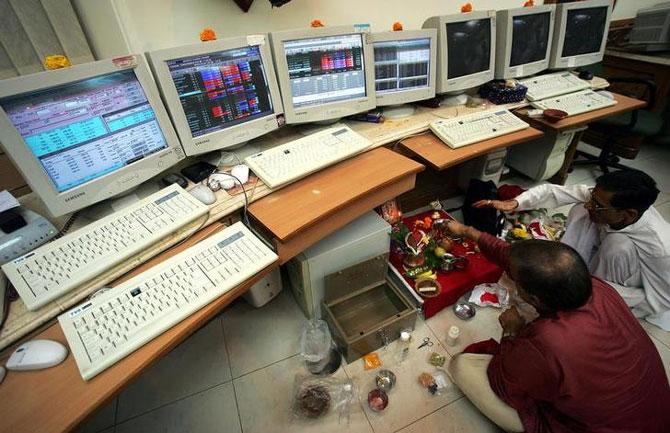 The woes of public sector bank (PSB) stocks can be gauged by a single parameter.
In the past year, while the BSE India Bankex (both public and private sector banks) rose 22.2 per cent, the CNX PSU Bank index is down 1.5 per cent.
The fall would be greater if one looks at the numbers before the government's announcement to infuse Rs 70,000 crore or Rs 700 billion to recapitalise PSBs in the next four years, with Rs 25,000 crore or Rs 250 billion in FY16.
On Friday, PSBs received another fillip when the government declared the performance will be reviewed based on return on assets and return on equity, instead of size of balance sheet.
It also said employee stock options will be given as incentives to top management.
As a recent report by Morgan Stanley says, while the government has outlined a plan to revive their profitability, the key is how quickly this converts to action.
The problem with many of these banks is the extreme weakness of balance sheets.
Bad loan ratios are high and coverage weak, implying provisioning costs could remain high for a year or two, even if the economy recovers.
More important, capital levels are thin, with tier-1 ratios between seven and nine per cent.
"If we adjust for the under-provisioned loan books, tier-1 ratios are between four and eight per cent, indicating these banks are among the weakest-capitalised in Asia," says the report.
Ashvin Parikh, managing partner, Ashvin Parikh Advisory Services LLP, says enough empirical research suggests that when the economy starts moving up, recovery of non-performing assets (NPAs) picks up and, more important, quality borrowers return.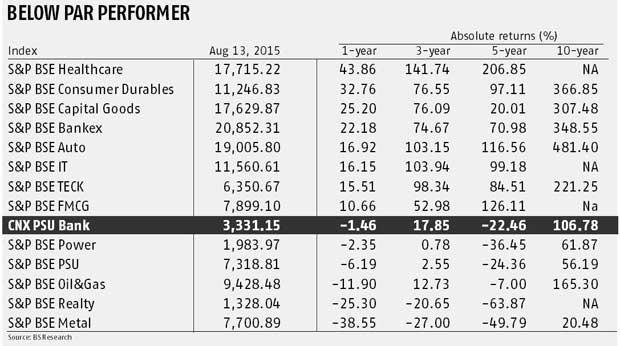 "Usually, there is a two-quarter gap between the rise in the economy and change in the fortunes of banks," he adds.
Arun Kejriwal, investment advisor, agrees and says if one believes the Indian economy will turn around, PSBs are ones to bet on.
"As they are the largest portion of the economy, any positive move on the economic front has to be aided by them."
"The worry is many of these stocks have been rising sharply for some time, due to news items such as a possible interest rate cut and so on."
How to select Bank stocks are perhaps more complicated than others because the usual market wisdom of price-to-earnings does not work for these.
Analysts use ratios - price to adjusted book value and return on equity - to select performers in this sector. Then, there is net interest income and NPAs.
All these, taken together, reflect the health of the bank. Deven Choksey, managing director, K R Choksey, believes the larger banks score on this account.
"The growth in large-cap banks will be more. They are better equipped to face the challenges of NPAs and treasury incomes are also in their favour due to a falling interest rate regime. Also, the managements of these banks are relatively better. As many of them are available at less than 1.5 times the price-to-book value, one can bet on them."
Laggards yet, a number of smaller PSBs in the category have balance sheets which do not give much comfort.
"While there is an upswing for the top seven-eight PSBs, the crystal ball is hazy regarding the other eight-nine."
The government, in this recapitalisation process, has linked further assistance to performance. So, the government seems to depriving them of capital in the hope that reduced banking business might help them clean up their books.
"Since, consolidation has not been mentioned, it is difficult to take a call on these," adds Parikh.
How long should you hold? While Kejriwal believes there are punting bets in several top banks, Choksey feels the holding period has to be at least two to three years.
"Many of these banks already look very attractive because of the falling interest rate regime," adds Choksey.'
If you are unsure, there are PSB exchange traded funds that one can use to participate in the sector.