At least two key drugs in the gliptin category have already gone off patent and cheaper variants are crowding the market. Also, several patent expiries are round the corner for the newest category of drugs - SGLT-2 inhibitors or gliflozins.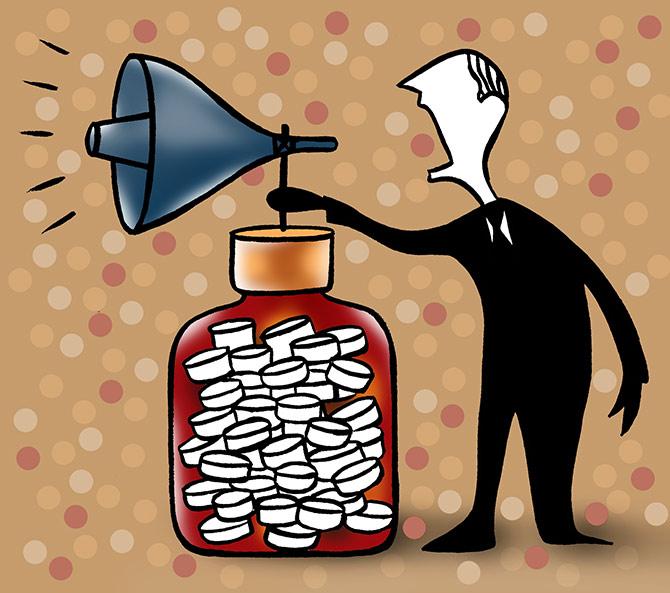 The Rs 14,000-crore diabetes drug market in the country is witnessing a churn with many patents reaching their expiry.
For patients, that's good news as far as medicine price is concerned.
The diabetes segment has been growing faster than the country's overall drug market.
At least two key drugs in the gliptin category have already gone off patent and cheaper variants are crowding the market.
Also, several patent expiries are round the corner for the newest category of drugs - SGLT-2 inhibitors or gliflozins (see chart).
Last month, Novartis' novel drug vildagliptin lost its patent, following which over 20 generics have entered the market, resulting in more than 70 per cent price drop.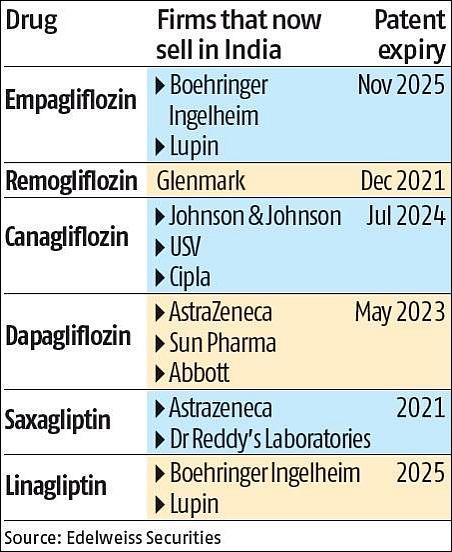 Currently, an off-patent drug - teneligliptin - is the widest prescribed gliptin (a diabetes drug category) with 60 per cent share of total prescriptions and 80 per cent share of new prescriptions.
Experts point out that the patent expiry of vildagliptin is likely to shake up the overall gliptin market.
Rajeev Sibal, president, India Region Formulations, Lupin, one of the leading homegrown diabetes players, believes that vildagliptin will eat into the share of a patented drug sitagliptin.
"Vildagliptin is in a unique situation currently because of two reasons - when it comes to scientific documentation, it is very well documented (by large clinical trials) just like sitagliptin; and when it comes to price, it is as economical as teneligliptin now," he said.
Sitagliptin is a Merck Sharp and Dohme drug that is likely to lose patent in July 2022.
It is priced around Rs 15-20 per tablet compared to Rs 4-5 for vildagliptin post-patent expiry.
Teneligliptin lost its patent around 2015 and Glenmark was the first Indian firm to launch the drug at a 55 per cent lower price.
Following Glenmark's generic entry, several other players stormed the market leading to a price war.
Affordability was the key factor driving the success of teneligliptin so far, despite limited scientific data.
Sibal added: "Now with vildagliptin available at similar price point in the market, doctors will find more comfort in prescribing vildagliptin to their patients.
"Vildagliptin will therefore now eat into sitagliptin's market share because of its affordability and wider reach through so many more Indian companies compared to sitagliptin."
Sun Pharma and Glenmark market the licensed version of Merck's Januvia (sitagliptin).
Lupin has already launched vildagliptin along with combinations in the domestic market.
Sitagliptin is a Rs 995.7-crore market growing at a CAGR of 8.9 per cent, while teneligliptin is Rs 1,010 crore in size.
Vildagliptin, an already Rs 997-crore market clocking a growth of 11 per cent, is expected to eat into the market shares of both the above drugs.
In addition, another category of drugs called gliflozins too is set to lose patents starting in a couple of years.
Generic drugs in this category will possibly shake up the oral diabetes medicine market in the country.
"So far, Indian players are selling gliflozins as tie-ups with multinationals.
"Almost every key player has started working on its generic gliflozin and would wait for the patents to expire.
"These are the latest global therapy and are now priced at around Rs 50 a tablet and prescribed only by specialists.
"This is the next category for a shake-up," said the India sales head of a mid-sized Mumbai based pharma company.
Gliflozins have clocked a strong 75 per cent growth since Johson & Johnson launched its canagliflozin in April 2015.
This was followed by AstraZeneca's dapagliflozin in June 2015 and Boehringer Ingelheim's empagliflozin in November 2015.
Since then, these companies have partnered with domestic majors to market their drugs.
Recently Glenmark disrupted the market with its low-cost innovation remogliflozin.
In December, Glenmark partnered with Mankind Pharma to market this drug.
Deepak Malik, analyst at Edelweiss, noted, "Glenmark launched remoglifozin at half the price and recorded highest prescriptions within six months.
"Besides, with remoglifozin going off-patent in FY22 and dapaglifozin and empaglifozin in FY24 (accounting for 85 per cent of gliflozins), this category would attract competition."
Sibal said Indian players would have a better chance when it comes to expanding in the country's diabetes market.
The diabetes market is growing at a CAGR of 14 per cent since the last three years compared to 8 per cent CAGR of the overall market.
Only 5 per cent of this market is covered under the National List of Essential Medicines or is under a price cap.
"Most of the time, MNCs are not in a position to employ such large field force required for covering the entire nation effectively; this will always be a major advantage for Indian players and will compel MNCs to partner with strong Indian players to ensure the reach required to make their products accessible to the vast Indian population," Sibal explained.
MNCs like Boehringer Ingelheim and AstraZeneca currently have the highest market shares now in the gliflozins category with 34 per cent and 19.3 per cent, respectively.
Homegrown Lupin too has caught up with 19 per cent share and Sun Pharma is closing in at 11.5 per cent.
According to Malik, with Sanofi exiting diabetes research and development (R&D), companies like Lupin and Glenmark are expected to expand their market shares in the overall diabetes market.
About 80 per cent of the diabetes therapy market is oral medicines, while insulin constitutes 20 per cent.
Sanofi's Lantus is the market leader with 75 per cent share of the market.
According to the International Diabetes Federation (IDF), India recorded an estimated 77 million diabetes cases in 2019, of which only around 45 per cent were diagnosed. By 2030, this number could touch 100 million.