Swiss National Bank shocked the currency markets on Thursday by abolishing their currency -- franc's three year-old cap of 1.20 per euro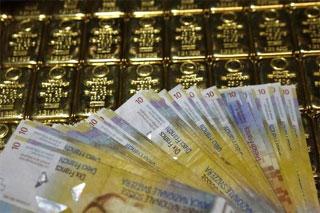 European crisis is acquiring a new dimension everyday. Earlier, it was the Russians who rocked the market with a sharp increase in their interest rates, then came the Greeks who are going in for elections with chances that they might want to renegotiate their terms for restructuring and now it is the turn of Switzerland.
The Swiss National Bank (SNB) shocked the currency markets on Thursday by abolishing their currency -- franc's three year-old cap of 1.20 per euro, causing the currency to soar as much as 41 per cent before settling down to 16 per cent. The central bank also made its deposit rate more negative (-0.75 per cent).
In 2011, SNB pegged its currency against the Euro to protect its industry from competitors in European nations. Since Switzerland exports around 56 per cent of its goods to European countries, pegging worked as a protection. However, removing the peg has now exposed the country's manufacturers and its tourism industry. Travelling to Switzerland has overnight become around 15 per cent costlier.
But the impact for Switzerland is far deeper than the initial market reaction. UBS in its report on the event said that Switzerland will slip into deflation this year. Its private-banking customers are concerned a stronger franc will hurt Switzerland's economy and the businesses they own, Simon Smiles, Zurich-based chief investment officer for ultra-high-net-worth individuals at UBS, said on Friday in an interview.
The bank lowered Switzerland's GDP growth in 2015 to 0.5 per cent from its earlier estimate of 1.8 per cent. UBS expects inflation rate to decline to negative 0.6 per cent from an earlier estimate of a 0.2 per cent gain. The bank has given a caveat that these estimates are subject to "substantial uncertainty," depending on how the franc trades against the euro.
Chances are that Switzerland might see losses in its manufacturing sector. Swiss federation of trade unions said the move would put "massive" pressure on jobs and wages among exporters.
Swiss Franc along with gold was considered as safe havens from the uncertainty in world markets. But this move by SNB has now exposed the country's currency to global volatility. "Assets like the US dollar and gold are going to be, at the margin, larger recipients of the safe haven flows which are going around," Richard Yetsenga, head of global markets research at Australia & New Zealand Banking Group Ltd.
Switzerland very recently saw a motion been defeated on 'Save our Swiss gold' where the demand was to peg the currency against gold rather than the Euro. SNB had rejected the demand saying that Euro was a much safer bet. Further, SNB had repeatedly assured investors that the central bank was committed to defending the currency cap. Removing of the cap is seen by analysts as big loss of trust on the central bank.
But then with Euro Zone expected to launch another round of quantitative easing in the near future, Euro currency was expected to depreciate further. SNB would have had to take a big hit in its balance sheet if it continued to follow the Euro.
Sharp fluctuation in the Swiss Franc has had repercussions across the globe. The surprise move caused New Zealand foreign exchange dealer Global Brokers NZ Ltd to close due to hefty losses incurred from the volatility. Retail foreign exchange brokers and trading houses in Asia have been hit by massive losses. A sizeable number of housing mortgages, especially in east European countries are franc denominated. A stronger franc will increase the cost of servicing this debt.
SNB's action suggests that more countries will now realign their currencies to keep their economies floating. With chances that the Swiss franc might no longer be a safe haven, money can move into gold or the US dollar.