The strong numbers boosted hopes of a boom in housing. Analysts said the realty companies had benefited from inflation as it led to a rise in asset prices.
Sundar Sethuraman reports.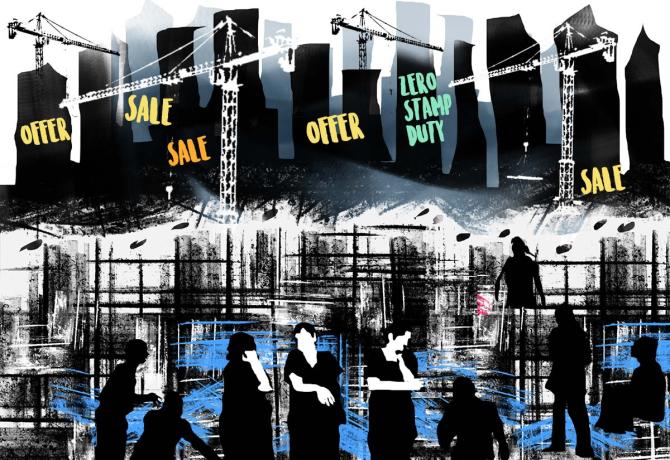 The BSE Realty index—a gauge of real estate stocks—rose 4.2 per cent on Monday, extending its two-day advance to 7.8 per cent.
The latest gains came on the back of robust sales posted by realty developers in the March quarter of financial year 2022-23 (Q4FY23).
On Thursday, the rate-sensitive index had gained 2.9 per cent following the Reserve Bank of India's decision to pause interest rate hikes in its latest monetary policy review.
On Monday, Godrej Properties announced that it saw the highest-ever quarterly and annual sales in the quarter.
The company's share price rose 9.1 per cent and was the best performer on the BSE Realty index.
Earlier, Sobha Developers posted its highest annual sales of ~5,198 crore in FY23.
In Q4, the company said it achieved its highest-ever quarterly sales value, a rise of 2.7 per cent over Q3FY23 and 31.9 per cent compared to the corresponding period last year.
Similarly, in an exchange filing, Macrotech Developers said it achieved best-ever annual pre-sales performance of Rs 12,064 crore.
And it posted pre-sales worth more than Rs 3,000 crore for the third consecutive quarter in Q4.
Mumbai-based Ajmera Realty said it recorded a sales value of Rs 140 crore in Q4FY23, an increase of 10 per cent sequentially.
It said it achieved its best-ever sales performance in FY23, almost double that of the previous fiscal.
The strong numbers boosted hopes of a boom in housing.
Analysts said the realty companies had benefited from inflation as it led to a rise in asset prices.
"Inflation is positive for real estate because the land asset prices shoot up.
"Many realty companies were sitting on high inventory, both land and partly developed assets.
"In the last six months, real estate prices went up 10-20 per cent. I see another 15-20 per cent upside for realty stocks," said G Chokkalingam, founder of Equinomics.
"Record pre-sales numbers by real estate companies along with a pause in an interest rate hike by RBI and a further improvement in demand could keep real estate in momentum going forward as well," added Siddhartha Khemka, head of retail research, Motilal Oswal.
Analysts, however, asked investors to tread cautiously.
"It's better to buy stocks that have lower debt compared to their peers," said Chokkalingam.
---
Disclaimer: This article is meant for information purposes only. This article and information do not constitute a distribution, an endorsement, an investment advice, an offer to buy or sell or the solicitation of an offer to buy or sell any securities/schemes or any other financial products/investment products mentioned in this article to influence the opinion or behaviour of the investors/recipients.
Any use of the information/any investment and investment related decisions of the investors/recipients are at their sole discretion and risk. Any advice herein is made on a general basis and does not take into account the specific investment objectives of the specific person or group of persons. Opinions expressed herein are subject to change without notice.