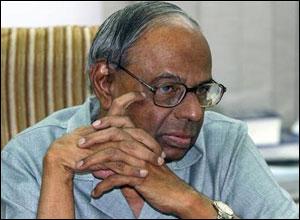 'So far as supervision is concerned, there are enough powers but to take action on public sector banks, consultation with the government is needed.'
C Rangarajan, former head of the country's Reserve bank says the regulator does have formal supervisory powers over government-owned lenders but also needs to work with the State in taking needed action.
He was speaking a couple of days after Reserve Bank governor Urjit Patel had said the central bank did not have adequate leeway in this regard.
"The issues have been raised at various levels. How much control the Reserve Bank has over public sector banks (PSBs) is an issue. In terms of (formal) supervision, it has powers," the former head of the prime minister's economic advisory council told reporters on the sidelines of his lecture in the memory of the late Saumitra Chaudhuri, economist and Planning Commission member.
"So far as supervision is concerned, there are enough powers but to take action on public sector banks, consultation with the government is needed," he said.
On the blame for the fraud at government-owned Punjab National Bank, the present RBI chief had said on Wednesday, "There has been a tendency in the pronouncements post revelation of the fraud that RBI's supervision team should have caught it. While that can always be said ex post with any fraud, it is simply infeasible for a banking regulator to be in every nook and corner of banking activity to rule out frauds by 'being there'."
RBI has limited legal authority to hold state-owned bank boards accountable for strategic direction, risk profiles, assessment of management and compensation, Patel had said.
His comments came days after Finance Minister Arun Jaitley saying the regulators ultimately decide the rules of the game and have to have a third eye, perpetually to be open at the sector. "But, unfortunately, in the Indian system, we politicians are accountable, the regulators are not."
Rangarajan said RBI's action in banning of Letters of Undertaking could be reviewed later.
"I suppose that for some time it (this move) could be done to see that there is no avenue for frauds. After some time, it could be reviewed, and once the necessary precautions are taken, it could be re-introduced."
On whether RBI's new norms on banks' non-performing assets would lead to companies heading for insolvency, he said, "It will mean that NPAs of the PSBs might increase but whether it will lead automatically to other procedures will depend on the items that come under NPAs."
Asked whether these norms should be reviewed, he said, "I am sure RBI is reviewing."
As to whether there is a case anew for privatisation of PSBs, he said the issue should not be discussed in the context of a fraud.
"That (fraud) happens not only in public sector banks but private sector ones as well. The entire crisis of 2008 was caused by private sector banks in the West," he emphasised..
Earlier, in the first of the Saumitra Chaudhuri memorial lecture series, Rangarajan criticised the recent government move to raise customs duty on some products, saying the step was ill-advised.
Reminded that these were within World Trade Organization sanctioned limits, he said it was also the type of thing that created an argument for US President Donald Trump to say, "I will too." Adding: "It has come at a wrong time, let me say."
On whether Trump's recent raising of tariffs on select products and countries would lead to a trade war, Rangarajan said it would depends on where the American president chooses to stop. "If, as a token, he has raised import duties on two commodities and stops there, then it might not explode into a big war."
He noted Trump had also spoken of taking India to the WTO for the export subsidies the government was giving, though the latter could be defended.
On whether exchange rates should be altered to help exports, he said, "The rupee has been depreciating since January because of a variety of factors such as outflow of capital, so on and so forth. There is tendency for the rupee to depreciate. I personally think there is a case for depreciation of the rupee."
In his speech, Rangarajan said India should proceed cautiously on the path of capital account convertibility. "Capital account convertibility should not become a route for all individuals and even business entities to freely keep funds abroad. The time for that has not come."
Rangarajan also cautioned that any level of current account deficit beyond 2.5 per cent of Gross Domestic Product should ring alarm bells. If so, the government still has some room, since this deficit had risen to two per cent of GDP in the third quarter of the current financial year against 1.1 per cent in the previous quarter.
Image: Dr C Rangarajan. Photograph: B Mathur/Reuters.