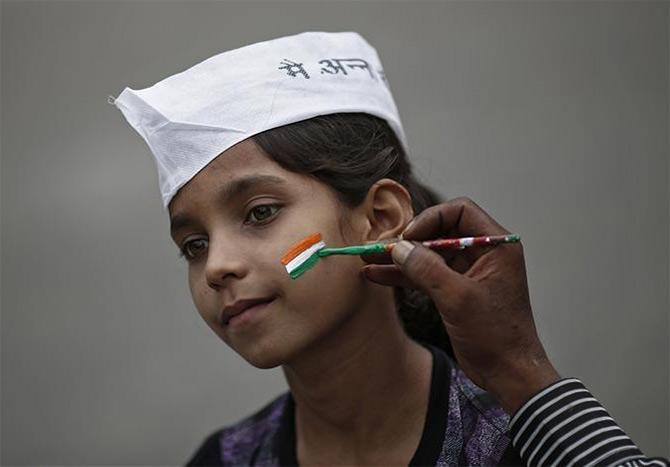 A survey sponsored by RBI has projected the economic growth rate at 7.9 per cent for the current fiscal, up from 7.5 per cent in 2014-15.
"In 2015-16, Gross Value Added at basic price (GVA) is expected to increase by 7.9 per cent, led by growth in 'Services' by 10.1 per cent," said the RBI's Professional Forecasters on Macroeconomic Indicators.
The forecasters expect real GVA (refers to economic growth) at to increase by 7.5 per cent in 2014-15. The government expects the economy to grow by 8-8.5 per cent in the current fiscal.
Earlier in the day, RBI said assuming a normal monsoon, continuation of the cyclical upturn in a supportive policy environment, and no major structural change or supply shocks, output growth for 2015-16 is projected at 7.8 per cent, up from 7.5 per cent in 2014-15, but with a downward bias to reflect the still subdued indicators of economic activity.
"Gross Domestic Saving rate is projected at 30 per cent of GDP in 2014-15 and is expected to improve to 31 per cent of GDP in 2015-16," the survey said.
Bank credit, according to them is expected to expand by 12 per cent in 2014-15 and further by 14 per cent in 2015-16.
It expect the gross fiscal deficit at 4.1 per cent of GDP in 2014-15 while it is likely to moderate to 3.9 per cent of GDP in 2015-16.
Current Account Deficit is projected at 1.2 per cent and 1 per cent of GDP in 2014-15 and 2015-16, respectively.
Another survey released by the RBI said the Consumer Confidence Survey reflects improvement in terms of Current Situation Index (CSI) and Future Expectations Index (FEI).
"Net response of current economic conditions as compared to one year ago has shown improvement in the last four rounds of the survey. Also, positive perceptions on future economic conditions which were declining in the last three rounds, has shown a turnaround in this quarter," it added.
As per yet another survey, "qualitative response" suggests that percentage respondents are expecting general prices to rise by 'more than current rate' during the next three months and next one year have marginally increased.
"Inflation expectations were slightly higher across various product groups for both the horizons," said Inflation Expectations Survey of Households: March-2015.
RBI also released 'Industrial Outlook Survey- Q4'. As per it, Business outlook of the Indian manufacturing sector, as inferred from movements in Business Expectation Index (BEI) improved in assessment quarter (104.6 to 106.7).
"The improvement in BEI for the assessment quarter is mainly due to improved optimism in production, order books, capacity utilisation, employment, financial situation, availability of finance coupled with reduced pessimism in cost of finance, cost of raw material and profit margin" it said.
It also said business sentiments for the first quarter of the current fiscal remained broadly unchanged from that of the previous quarter.
© Copyright 2022 PTI. All rights reserved. Republication or redistribution of PTI content, including by framing or similar means, is expressly prohibited without the prior written consent.