One of the leading power cable manufacturing firms, Ravin Cables has formed a joint venture with the Italy's Prysmian and Cable system.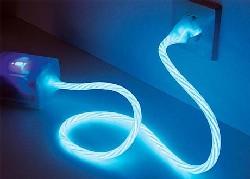 It plans to achieve a sales target of Rs 1,200 crore (Rs 12 billion) for the next three years by enhancing its market share from the present three percent to 10 per cent.

"We have set up a sales target of Rs 1,200 crore (Rs 12 billion) in the next three years by enhancing our market share from the present three percent to 10 percent by the year 2013 to emerge as one of the top-3 cable systems supplier in India,'' Vijay Karia, chairman and managing director of the Mumbai-based firm told rediff.com.

Italian firm Prysmian Cables and Systems has invested Rs 200 crore (Rs 2 billion) amounting to 51 per cent of the stakes in Ravin Cables to tap the growth potential of their product in the Indian market. Ravin Cable will own the remaining 49 per cent in the joint venture, Vijay Karia said.

All the formalities of converting the firm into a joint venture have been completed which includes permission of the Reserve Bank of India and other fiscal institutions.

As per the agreement between the two companies, Luigi Sarogni will be the CEO of the Indian operations, while Karia will continue to be the chairman and managing director of the new joint venture named as Ravin Cables Ltd.

Prysmian is the world's second biggest player in power cabling and has a wide-range of product offerings in high and extra-high voltage segments. It has operations in 39 countries and a work-force of 12,000 globally.

Karia said that Ravin Cables Ltd will set up a new manufacturing facility on a 25 acre land at their Pune plant, with sophisticated machinery and latest technology imported from Europe, US and other countries to enhance the manufacturing range of the current plant.

Further, construction work on new plant will be completed by the end of 2011. It will provide employment to around 400 technical and non technical staff.

This tie-up will help the company to focus on development in the new areas of high-tech cables for utilities and specialised industrial cables. It will also enable the company to have a manufacturing presence in other strategic markets like West Asia.

"The Indian market currently lacks the technology and R&D base which we are looking to capitalise on through the expertise of Prysmian," Karia explained, when asked why he feels that his company should enter into a joint venture with the Italian firm.

Ravin Cables had registered a turnover of Rs 325 crore (Rs 3.25 billion) in fiscal 2009-10 and sells low-and-medium voltage cables to customers in India, Africa and West Asia.

The company also supplies cables to leading power manufacturing units in India.