Over the past two years, Tata has invested in over 20 start-ups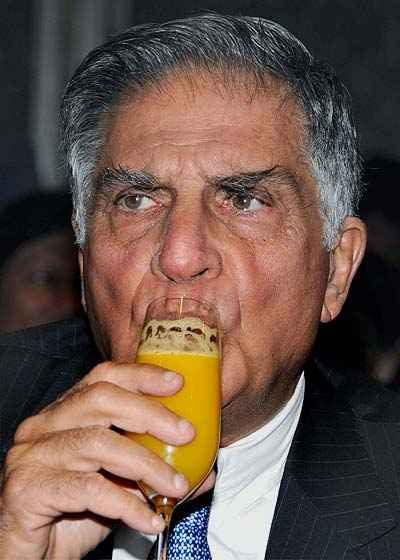 Tata Group patriarch and lately entrepreneur enthusiast Ratan Tata, who has invested in over 20 start-ups so far, on Wednesday said unless a newbie "excites" him, he does not invest in that company.
Stating that startups "are an embodiment of creativity and innovation of young India", Tata said he invests in new ventures if "the idea excites" him, and the first impressions of the founders are good.
"Young people are the future of the country, and new start-ups embody the creativity and innovation of young people ... If a start-up doesn't excite me, then I really don't need to make an investment in that company," Tata told TiECON, an event celebrating young entrepreneurs.
The chairman emeritus of Tata Group said he goes with his first impression of the founders and if they are not passionate about the sector, or "do not give him a great deal of comfort", he doesn't invest.
"Interacting with young people has always been a very worthwhile experience, and I've probably learnt a lot more from them than you believe."
Over the past two years, the noted industrialist has invested in over 20 start-ups and made two fresh investments in Dogspot and Tracxn in the first week of January itself.
Asked by the entrepreneur community about making headlines for his investments, Tata lamented, "I believe one's personal investments should be personal. But the media makes ones idea of investing one's funds an issue for the public domain, which is unfortunate."
Speaking of entrepreneur's value systems, he said one can intuitively make a judgement about a person's value system from how they run their business, and that "one must not confuse ambition and aggression for bad values if they're done with a value system in mind."
Having led big-ticket buyouts of Corus Steel and Jaguar Land Rover during his leadership of the Tata Group, he said these were "not intuitive but strategic acquisitions".
While he successfully turned around JLR, on struggling Corus Steel, Tata quipped, "I simply couldn't have foreseen."
"As far as Corus was concerned, at that time we were stuck in delays in mining licences and we couldn't grow and I thought this would be a way to get an international capability," Tata said, adding "I should not be accused of flamboyance as I did not know that the European economy was going to collapse."
Meanwhile, the first day of TiECON saw participation from over 1,000 delegates comprising domestic and global CXOs, entrepreneurs, investors, thought-leaders and policymakers.
Besides Tata, the other speakers at the event included Harsh Mariwala of Marico Ronnie Screwvala of Unilazer, Kunal Bahl of Snapdeal and Kunal Shah of Freecharge, among others.
Photograph: Mohan Bane/PTI
© Copyright 2022 PTI. All rights reserved. Republication or redistribution of PTI content, including by framing or similar means, is expressly prohibited without the prior written consent.