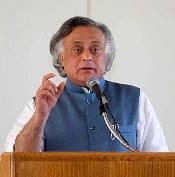 Facing flak from industries over alleged delay in projects due to green rules, Environment Ministry on Monday came out with a new proposal of "compensatory afforestation" to help them get early forest clearances.
After a closed door meeting with industrialists, organised by FICCI here, Environment Minister Jairam Ramesh said the issue of forest clearances was much more serious than the issue of environmental clearances.
"I have assured industry today we will try how can we expedite clearances," the minister said and suggested that compensatory afforestation is an idea which could be explored. Noting that out of the country's total 70 million hectares of forest cover, about 28 million hectares are degraded forest lands, he said, "One idea is that we use the degraded forest land for compensatory afforestation."
But it should be done on the clear understanding that the ownership of that land does not pass to the industry, the Minister said. "It is not used as a captive plantation for the industry. This would be regeneration of forests. I think this may be one solution to the problems we are having about forest clearances," Ramesh said.
The Minister, who discussed the idea with forest officials, said he has got "generally positive reactions to this" from the industry.
"This way we will be able to evolve industry in the regeneration of degraded forest land without necessarily transferring the ownership of land to the industry, which is a social concern and without losing that forest land for plantations," he said.
The Minister also proposed incentives for the industries showing good environmental performances and disincentives for bad environmental show.
He said he has taken up the matter to Finance Minister Pranab Mukherjee in the context of the forthcoming budget. "I think, the finance minister will have something to say in the budget," the minister added.