The value of the ace investor's personal holdings rose by just 2%, reports Samie Modak.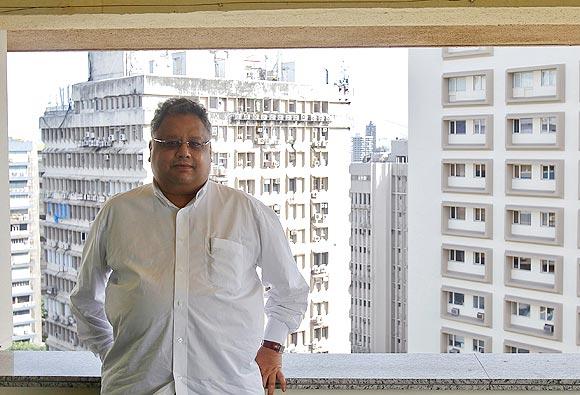 The value of Rakesh Jhunjhunwala's stock holdings has remained flat this year as heavyweights of his portfolio weighed down the performance.
According to data taken from Bloomberg, the value of his personal holdings has witnessed a marginal rise of 2% to Rs 6,514 crore (Rs 65.14 billion).
The analysis only considers companies where Jhunjhunwala owns stakes of more than 1% in his personal capacity.
Besides that, the ace investor also holds stake in various companies through his firm RARE Enterprises. In addition, his wife Rekha Jhunjhunwala too has equity holdings.
Most of Jhunjhunwala's long term bets such as Aurobindo Pharma, Lupin and Titan have turned out to damp squibs in 2016.
The two pharma companies lost close to 20% during the year, while Titan too is down 9%.
Meanwhile, the benchmark Sensex is up just 1% so far this year.
Industry observers say Jhunjhunwala is now focusing on buying a large chunk of equity in smaller companies like Geometric, Autoline Industries, Mandhana Retail and Delta Corporation.
There are around 8 companies in which Jhunjhunwala holds more than a 10% stake.
Recently, Jhunjhunwala announced he had acquired 12.7% stake in Mandhana Retail Ventures Limited, which retails Salman Khan's Being Human apparel brand.
"Jhunjhunwala has been increasing his stakes in some of the lesser-known companies this year. Probably, he is looking for the next multi-bagger in them. He has made considerable wealth by investing in companies such as Titan and Lupin when they were small," a broker said, asking not to be named.
Last year, Jhunjhunwala was seen investing heavily in all three listed aviation companies -- InterGlobe Aviation, Jet Airways and SpiceJet.