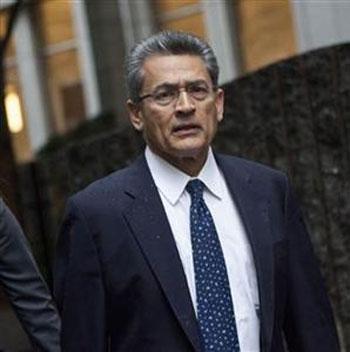 The US has opposed India-born former Goldman Sachs director Rajat Gupta's fresh appeal to overturn his insider trading conviction, saying he should now end his challenge to the jury's 'well-founded' verdict that he gained from his illegal tips to ex-hedge fund founder Raj Rajaratnam.
"Three years after being convicted at trial, Rajat Gupta seeks to continue litigating a question that is not now and has never been debatable," said Preet Bharara, US Attorney for the Southern District of New York.
"Whether he violated the securities laws by repeatedly tipping his longstanding business associate, Raj Rajaratnam with material non-public information that Rajaratnam used to reap millions of dollars in profits and avoid millions of dollars in losses," Bharara said in the opposition filed in federal court in New York on July 31.
In opposing Gupta's motion for issuance of a Certificate of Appealability, Bharara said Gupta cannot seek to overturn his conviction and two-year prison term, citing the federal Appeals Court's recent decision in which it had reversed the insider convictions of hedge-fund managers Todd Newman and Anthony Chiasson.
In the landmark ruling, the court had ruled that for an insider trading conviction prosecutors must show that a defendant received personal benefit for passing illegal tips.
Gupta, 66, is currently serving his prison term in a federal prison in Massachusetts along with Rajaratnam.
Bharara said when it comes to Gupta's guilt, Newman 'changes nothing'.
"Because no reasonable jurist would find this court's assessment debatable or wrong, Gupta is not entitled to a certificate of appealability," Bharara said.
Asking the court to deny Gupta's motion for the issuance of a certificate of appealability, the government said it respectfully submits that "his ongoing challenge to the jury's well-founded verdict should now end."
In a July 25 motion, Gupta had resorted to fresh legal recourse, seeking a 'certificate of appealability' that will enable him to appeal the ruling made by US District Judge Jed Rakoff on July 2.
In the ruling, Rakoff had disagreed with Gupta's claim that there was 'insufficient' evidence at trial of him receiving 'personal benefits' in exchange for the insider tips
he allegedly passed on to now-jailed billionaire hedge fund founder Raj Rajaratnam.
This court concluded that it was 'obvious from the very nature of the tips' that Gupta's tips were part of an exchange that was 'objective, consequential and represents at least a potential gain of a pecuniary or similarly valuable nature', Bharara said in the papers filed last week.
To obtain a certificate of appealability, Gupta must establish that the Court's procedural and merits rulings were both 'debatable', that, he cannot do, he said.
"The court's recitation of Gupta's substantial, ongoing business entanglements with Rajaratnam leaves no doubt that Gupta stood to benefit financially from his illegal tips," the government's opposition said.
Image: Rajat Gupta. Photograph: Reuters