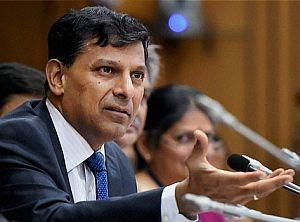 Raghuram Rajan's comments at various functions where traditional media is absent have found their way into the public domain
It has happened again.
Reserve Bank of India Governor Raghuram Rajan's comments were made public despite being spoken at a private function that was off-limits to media.
It may be that an over-enthusiastic media has irked the former International Monetary Fund chief economist, like it did in March earlier this year.
This RBI Governor prefers to distinguish what he wants to speak when media is present and when it isn't.
And when he speaks assuming that media is not present but finds his comments reported the next morning, he gets upset.
In early March, the media reported that RBI was not in a position to cut rate, quoting the Governor's speech to college student in central Mumbai suburbs.
However, on March 4, a day ahead of the policy review, when RBI reduced interest rate, it took analysts and investors by surprise who had been relying on the reported speech.
"This comes from paying attention to closed door meetings which should not have been reported outside," Rajan told analysts in the post-policy conference call the next day.
"I apologise to the wider public, but there were no reporters supposed to be present, this was a direct interaction with students."
He also added that he had been misquoted.
In London, in the last week of June, media reported that Rajan had warned about the likelihood of a repeat of the Great Depression.
The central bank then issued a statement saying that the Governor had, once again, been misquoted.
And now, at the Meghnad Desai Academy of Economics in Mumbai, which the governor inaugurated on Monday, the public relations agency first issued a press release quoting the Governor on various issues, ranging from bad loans to the recent revised draft of Indian Financial Code, and other contentious issues.
Within hours, however, the press release was withdrawn and another press release was issued that omitted his remarks on those issues.
Apparently, the Governor was given the impression that the interaction was with students and without any media presence.
But when RBI realised that what he said had been passed on to the media -- which the Governor was not comfortable with -- the press release was changed.
Nonetheless, the damage had been done.
The problem here is of making a distinction between when media is present and not present.
By media, of course, the Governor meant traditional media like newspapers, wire agencies and television channels.
But media has gone beyond its traditional boundaries in the last few years.
One cannot ignore the presence of social media these days. It is quite natural that some students might tweet the Governor's comments while he was speaking. Or someone may put out his comments on their Facebook wall.
The information will be out even if traditional media is not present.
So the policy of what the governor will speak about depending on whether traditional media is present or not is redundant.
A central bank governor is a public figure.
What he tells a packed house, even if traditional media is not there, is bound to come out in public.
And retraction of such comments will leave the markets jittery. In the age of social media, one has to remember that.
Image: RBI Governor Raghuram Rajan; Photograph: Reuters