This comes as IR posted its worst operating ratio (money spent to earn every Rs 100) in 16 years, at 96.9 in 2016-17.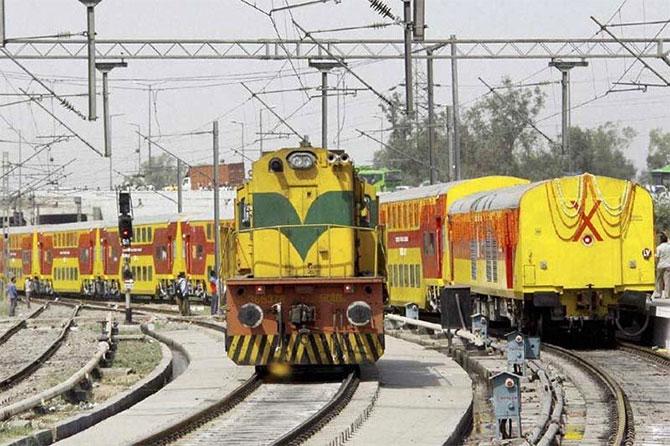 To move to a more corporate mode of functioning, the Indian Railways (IR) is looking for ways to do away with its social sector subsidies of about Rs 30,000 crore a year.
According to sources, it is in talks with two financial institutes to conduct a study on this.
The strategy of a more corporate way of functioning is based on a report by a panel chaired by Bibek Debroy, a member of the NITI Aayog, in 2015. One round of discussion has happened between the National Institute of Public Finance and Policy (NIPFP) and IR officials on how to proceed.
"We are in talks with two financial institutes, regarding a study on ways to reduce or do away with the subsidies. If the railways is a commercial entity, social obligation should not be a baggage for it," said an official source.
Late last year, Railway Minister Suresh Prabhu had written to his finance counterpart that social sector subsidies should be borne by the ministries concerned. IR recovers only 57 per cent on the cost of passenger services; on suburban rail, around 40 per cent.
"Once the reports are submitted, we will approach the finance ministry. The idea is, if we are giving a subsidy to, say, a defence person, it should be absorbed by the ministry concerned," said the official.
This comes after the central government merged the railway Budget with the General Budget, doing away with the 92-year-old tradition. The Debroy panel had recommended this, as a way of easier segregation of the railways' social responsibility from its operational finances.
Another item on Prabhu's agenda is the government's clearance to his proposal for a sector regulator, a Rail Development Authority. This entity is to decide on rates and equitable treatment for stakeholder investment in the railways, setting efficiency and performance standards, and dissemination of information.
This comes as IR posted its worst operating ratio (money spent to earn every Rs 100) in 16 years, at 96.9 in 2016-17. This was mainly due to the social burden and implementation of the pay commission report. It has already appointed a foreign consultant to come up with a performance index other than the operating ratio.
"Despite all this, our loading has increased from 1,104 million tonne in 2015-16 to 1,109 mt in 2016-17. We are also giving extra focus on non-fare revenue. The major concern for us is the increasing subsidy burden, while the pay commission impact will also be there in 2017-18, of about Rs 15,000 crore," said another official.
Key Social Service Obligations
Non-Suburban Passenger Services - Concessions to various categories of passengers. Senior citizens, Students, Recipients of gallantry awards; National Sports awards; Participants of National and State sports tournaments; Shram awardees; War widows; Patients suffering from cancer, TB, other serious diseases; Handicapped persons; Press correspondents; Concessions to military personnel North East etc.
Sub-urban Passenger services - Fares of various classes of tickets lower than system costs, Season Ticket Concessions to sub urban passengers
Goods Services - Carriage of essential commodities at concessional rates, Concessions to Postal traffic, military traffic, registered newspapers & magazines, North East etc
Uneconomic branch lines - Continued operations of uneconomic branch lines
(Source: Indian Railways)
Photograph: PTI Photo