Railway Minister Suresh Prabhu on Thursday presented the Railway Budget announcing a number of services to transform the Railways.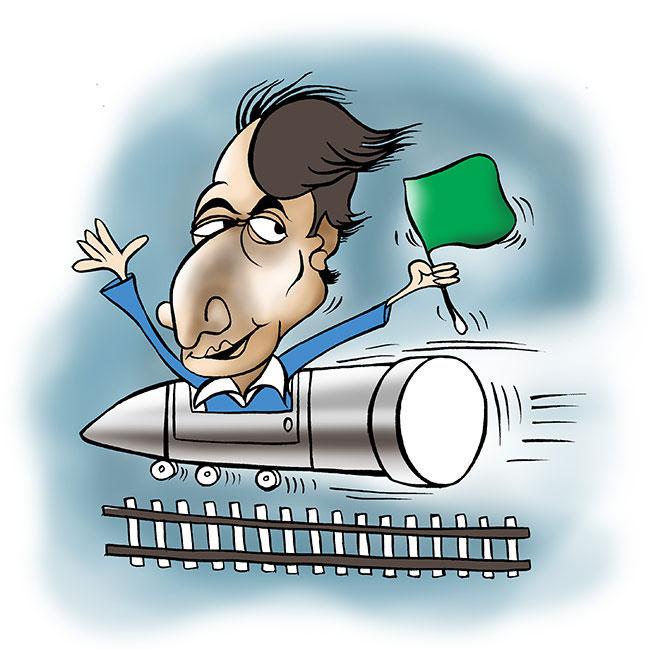 Image: Railway Minister unveils measures to transform Railways. Illustration: Uttam Ghosh/Rediff.com
Highlights of the Railway Budget:
* No hike in passenger fares, freight rates
* Rs 8.5 lakh crore to be spent in 5 years for modernisation of rail infrastructure
* To invest Rs 1.21 lakh crore in 2016-17.
* 3 new super-fast trains -- Humsafar Express, Tejas, Uday
* Aastha circuit trains to connect important pilgrim centres
* Super-fast unreserved train Antyodaya Express
* Deen Dayalu unreserved coaches with water, mobile charging points
* 50% more lower berth quota for senior citizens
* By 2020 reserved accommodation on trains on demand
* 400 stations to have wifi, 100 in next fiscal
* Eticketing capacity raised to 7,200/min, from 2,000/min
* CCTV surveillance for all major stations
* 30,000 bio-toilets in trains by next year
* Cleaning of coach on demand soon
* E-booking tickets on concessional passes for journalists
* Bar-coded tickets, scanners on pilot basis
* E-ticketing facility on foreign debit/credit cards
* Sale of tickets through hand held terminals soon
* Beautification stations at pilgrimage centres, including Ajmer, Puri, Varanasi, Nagapattinam
* FM Radio stations to provide train borne entertainment
* Rail Mitra Seva for old and disabled passengers
* Optional travel insurance for rail passengers
* Janani Sewa for providing food for children
* Smart coaches with automatic doors, bio vacuum toilets, improved aesthetics
* Mobile app to deal with ticketing issues, complaints
* Information boards in trains, GPS based digital display inside coaches
* SPV with Japan for Ahmedabad-Mumbai Bullet train
* Rs 30,000 crore spent on passenger fares.