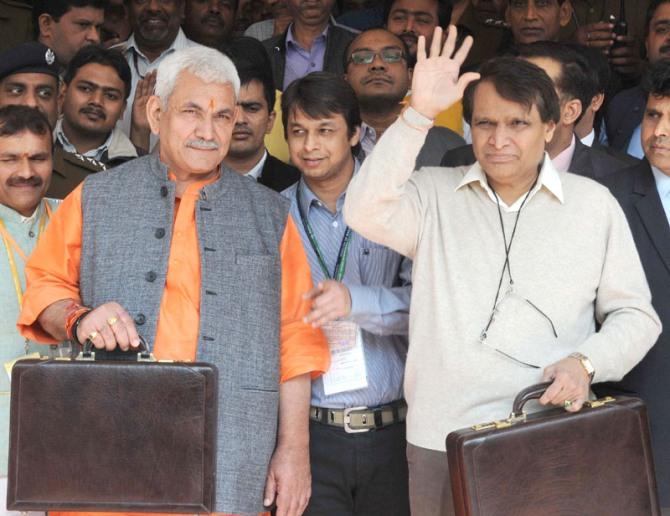 'We will make sure we recapture the traffic'.
Railway Minister Suresh Prabhu said on Thursday that the Indian Railways planned to cut costs and generate new sources of revenue next year to offset a big rise in its wage bill and help keep an ambitious modernisation plan on track on track.
Presenting the annual Railway Budget for 2016/17, the minister said the planned Budget outlay for the world's fourth-largest network would be Rs 1.21 lakh crore ($17.6 billion), up about 20 per cent from the current year's estimated expenditure.
But a slowdown in growth of passenger and freight revenues has put pressure on the railways' finances one year after Prime Minister Narendra Modi's government unveiled a 5-year $137-billion investment plan to overhaul the saturated and decrepit network.
"These are challenging times. . .We are faced with two headwinds, entirely beyond our control; tepid growth of our economy's core sectors due to an international slowdown and the looming impact of the 7th pay commission," Prabhu told the Parliament four days ahead of the Union Budget.
The Railways, the minister said, would need to cut costs, grow its freight business which provides two-thirds of its revenue and target new sources of non-tariff revenue through measures such as redeveloping train stations.
"We need to look beyond the current approach to expand the basket (of freight commodities).
"We will make sure we recapture the traffic," he told India's parliament, announcing plans for three new dedicated freight corridors across the country.
Image: Railway Minister Suresh Prabhakar Prabhu leaving Rail Bhawan for Parliament House to present the Railway Budget 2016-17, in New Delhi on February 25, 2016. The Minister of State for Railways, Manoj Sinha, is also seen. Photograph: Kind courtesy, Pres Information Bureau