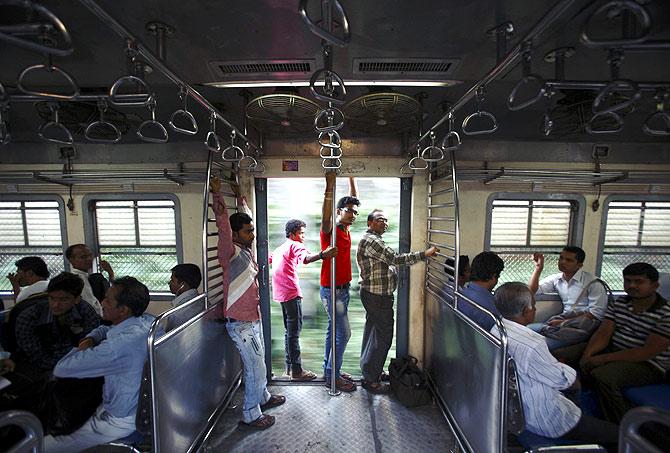 Already hit hard by the poor and inefficient services, the woes of the suburban rail commuters in the metropolis are going to be compounded further with the season ticket rates going up by more than double across classes.
The Narendra Modi-led government on Friday hiked rail fares by a steep 14.2 per cent and freight charges by 6.5 per cent 6.5 per cent.
The local trains are the lifeline for the over two crore people of the Mumbai metropolitan region. The city local services consist of three lines -- the Western, Central and Harbour lines, ferrying together over 70 lakh people per day.
As per the revised fares, effective June 25, a Rs 85 monthly season ticket (II Class) will now cost Rs 150, while a Rs 190 monthly pass will be priced at Rs 480.
Similarly, the monthly season pass of Rs 795 for the first class has been revised to Rs 1,930. Likewise, a first class commuter with a monthly pass of Rs 1,740 will now have to shell out Rs 2,120 more for the same journey.

"Second class monthly season tickets fares shall be charged on the basis of 30 single journeys instead of around 15 single journeys charged currently," the Railways said in a statement.
Fares of First Class monthly season tickets will be charged four times that of the Second Class monthly season tickets fares.
© Copyright 2020 PTI. All rights reserved. Republication or redistribution of PTI content, including by framing or similar means, is expressly prohibited without the prior written consent.